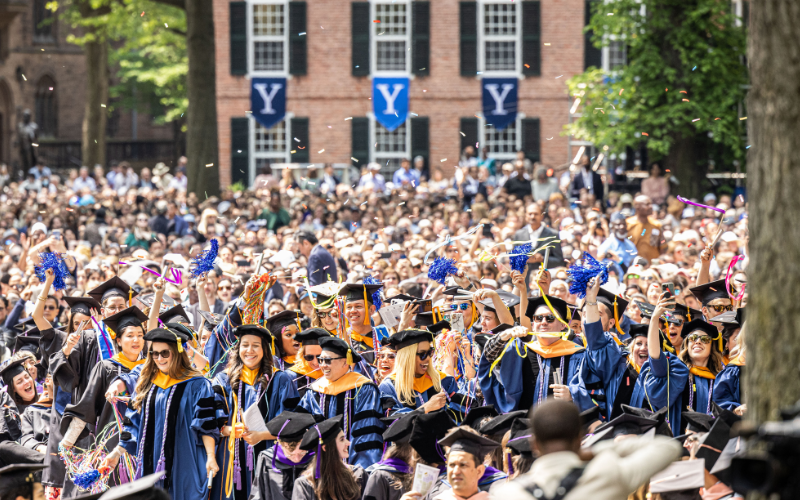 During Yale University's 322nd Commencement exercises on May 22, Dean Holly Powell Kennedy, PhD, CNM, FACNM, FAAN saluted the Class of 2023 for adding an exclamation point to Yale School of Nursing's (YSN) first 100 years. YSN will celebrate its centennial during the 2023-2024 academic year starting with kickoff events in September.
After the conferral of degrees and traditional confetti cannonade on Old Campus, Dean Kennedy welcomed graduates and guests to the Shubert Theatre for the diploma ceremony. She took the opportunity to reflect on the long journey of the nation's most trusted profession.
"Before YSN was founded, nurses in America were simply considered a labor force — in general, pairs of hands that could execute the tasks assigned to them by a doctor," Kennedy said. "Yale School of Nursing changed that. We poured the foundation that would build advanced practice nursing as a career for the highly skilled practitioners, clinical experts, and scientific researchers seated here today in their academic regalia."
Keynote Speaker Lynn Malerba '15 DNP
Lynn Malerba '15 DNP is YSN's first in-person Commencement speaker since 2019, before the start of the global Covid-19 pandemic. She is also the first Indigenous Treasurer of the United States and in 2010 became the first woman to serve as Chief of the Mohegan Tribe in the tribe's modern history. 
Earlier this year, her signature accompanied the personal script of Secretary of the Treasury Janet Yellen '71 PhD, on $1 and $5 bills, marking the first time that two women have etched their names on American currency.
"I am Chief Many Hearts Lynn Malerba of the Mohegan Tribe," the former cardiology nurse said. Dr. Malerba explained the name given to her by the tribe's medicine woman, who said, "As a nurse you have held many hearts in your hands in the past. Now as Chief, you hold our hearts in your hands."
"That really resonated with me," Dr. Malerba said. "And like me, you all hold hearts in your hands every day in the care settings that you have chosen for yourselves."
"Whenever I'm in a room of full of nurses, I feel like I'm home," Dr. Malerba said, also sharing that her nephew was seated in the audience among the graduates.
"Nurses occupy a sacred space. As you care for people when they are the most vulnerable and in need of reassurance. You offer a steady sense of expertise, calm, and reassurance. But most of all you offer yourself," Dr. Malerba said. "You provide your empathy, your skills, your knowledge, your concern not only for the person that you're caring for but their extended network of family and friends because they're depending on you as well."
Dr. Malerba encouraged the graduates to leave room in their career plans for unexpected adventures.
"The universe may have other equally important plans for you that you cannot see at this very moment, but it will show it to you over time. So when those moments are presented to you, embrace them. Say yes! Know that you are up to any challenge that presents itself to you because you are a nurse. You understand humanity. You know how to connect with people holding diverse opinions and how best to create a world where everyone's voice is heard and respected."
"In our tradition, diamond shapes connote good medicine. Nurses are diamonds on the path of life, bringing good medicine to everyone they encounter. Be a diamond for the people that you care for today and light the world for those that will come after you. I salute you all, this next generation of nurses."
Student Speaker Luis Vera '23 MSN
When student speaker Luis Vera '23 MSN took the stage, he spoke in front of his classmates, wife, and mother. Present as well were his two children, one of whom was born during the start of his Graduate Entry Prespecialty in Nursing (GEPN) program three years ago. Vera attended online orientation as a psychiatric mental health nurse practitioner student from the hospital's postpartum unit.
"These past few years have been a challenging time for all of us, and I want to acknowledge the bravery and determination it took for each of us to enroll in this program at the height of the pandemic," Vera said. "It doesn't matter if you entered YSN as a new GEPN, an experienced RN-entry student, a PhD candidate, or an administrator in the DNP program: we all looked at the healthcare landscape and said: 'I want to help.' "
Vera emphasized empathy and social justice in his remarks.
"As nurse practitioners and midwives, we have a critical role in making the healthcare world more just and equitable," he said. "We must use our knowledge and skills to advocate for those who are marginalized or underserved. We must commit ourselves to providing compassionate care to all patients, regardless of race, gender, or socioeconomic status."
Procession and Dais Participants
Pediatric Nurse Practitioner – Primary Care graduate Nicole Devaney '23 MSN served as banner bearer, leading the YSN procession through High Street Gate and onto Old Campus for the conferral of degrees ceremony. 
Nurse-midwifery graduate Jenilee Jaquez '23 MSN and Psychiatric Mental Health Nurse Practitioner graduate Kwaku Gyasi '23 MSN served as student marshals for the Master of Science in Nursing (MSN) program.
Healthcare Leadership, Systems, and Policy Doctor of Nursing Practice (DNP) graduate Lisa Czaplinski '23 DNP, MSN, RN, CMSRN served as student marshal representing the DNP program.
Christine Rodriguez, DNP, APRN, FNP-BC, MDiv, MA Director of Simulation and Interim Co-Chair of the GEPN program, served as faculty marshal. This honor is extended to a faculty member who exhibits outstanding teaching skills, serves as a role model, and displays excellence in nursing education.
All student and faculty marshals are nominated by their peers and then the final selections is made by a faculty committee.
Uzoji Nwanaji-Enwerem '23 PhD, ascended the dais after the Latin portion of the program between Dean of the Graduate School of Arts and Sciences Lynn Cooley and President Peter Salovey, walking to represent all PhD graduates.
Annie Goodrich Award for Excellence in Teaching
Vera presented the Annie Goodrich Award for Excellence in Teaching to part-time lecturer, YSN Alumni Association President, and Academic Support Team member Elyssa Noce '17 MSN, APRN, AGPCNP-C, CDN. 
Named for YSN's first dean in 1923 and the first female dean at Yale University, the award recognizes a faculty member who carries on the namesake's tradition of exceptional nursing education, empathy, and concern for all. 
One nominator shared how powerful it was to see Noce taking all the time a patient needed to discuss the complexities of a life-altering decision: whether to begin dialysis. The nominator wrote that it did not matter that this was the final patient of the day, or that the clinical support team had closed the clinic for the night: Noce stayed until both she and the patient were satisfied.
Charles King, Jr. Memorial Scholars Aid Prize
Adult/Gerontology - Primary Care graduate Jonathan Roberts '23 MSN was presented with The Charles King, Jr. Memorial Scholars Aid Prize, recognizing him as one of the leading members of the Class of 2023. The prize honors a graduate who demonstrates outstanding performance in scholarship, research, and clinical practice who inspires others.
Roberts ran the HAVEN reproductive health clinic as a solo director, secured significant funding, and constantly donated resources, time, and energy to some of the most marginalized people in New Haven. One nominator described him as "always willing to answer a question, assist with a task, without judgment, only with a helping hand, thoughtful knowledge, and boundless heart."
Another nominator described Roberts as speaking with patients that others had given up on as though they were the most important person in the world, saying, "When this student sees a patient, he truly sees them as the center of their universe for that short visit."
The Milton and Anne Sidney Prize
The Milton and Anne Sidney Prize was awarded to Clinical DNP graduate C. Chime Karkhang '23 DNP, AGACNP-BC as the strongest example of the school's commitment to clinical research and its mission to contribute to better health for all people.
Dr. Karkhang's Clinical DNP project "Increasing Transplant Medication Knowledge through Implementation of a Medication Education Intervention Algorithm," has already been recognized as an exemplary piece of evidence-based, translational work. 
Dr. Karkhang is a nurse practitioner at YNHH on the Transplant Surgery team and was previously awarded a prestigious grant from the American Association of Transplant Surgeons and successfully implemented her program. Her work exemplifies YSN's mission of better health for all people by addressing a significant clinical problem in transplant care that affects quality of life, morbidity, and mortality of vulnerable patients. 
Heather Dawn Reynolds Equity Award
The Heather Dawn Reynolds Equity Award was first given in 2021 to its namesake, a beloved lecturer and the school's Minority Student Coordinator. Professor Heather Reynolds '80 MSN, CNM, FACNM was on hand to present this year's honor to Erica J. Rayack '23 MSN, '23 MPH, who was saluted for her work toward equitable and just care of immigrant birthing parents and their children. She has had a keen eye on global health, specifically Chagas disease, and how it disproportionately affects immigrants to the US from Mexico and Central and South America and is under-recognized and under-diagnosed in the United States.   
She has embraced the work of community health primary care through her participation at Haven Free Clinic and community-based clinics in greater New Haven caring for under-resourced individuals. Rayack has also worked within the YSN community in advanced principles of diversity, equity, inclusion, and belonging in the classroom in a way that is respectful, and open-minded, and she advances DEIB principles with grace and patience. 
More Class of 2023 Coverage
Watch Yale's 322nd Commencement ceremony on the Yale University YouTube channel and skip to the 2:00:07 mark to hear the roar of the crowd as Dean Kennedy presents candidates for degrees in the School of Nursing.
See more complete coverage of Commencement by reading the annual YaleNews wrap-up.
Check out the YSN diploma ceremony at the Shubert Theatre, including all the speeches and prize winner presentations, on the YSN YouTube channel.