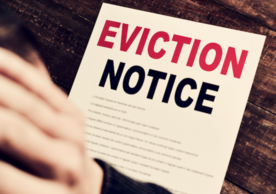 On October 9, Yale School of Nursing Professor Dr. David Vlahov PhD, RN, FAAN joined 23 national associations and experts and filed an amici curiae brief describing the importance of the national eviction moratorium in preventing the spread of COVID-19. 
Based on their extensive research and work in this area, amici urged the court to recognize that preventing eviction is critical to protecting public health and ensuring health equity during the COVID-19 pandemic. In the case, Brown v. Azar, filed in a federal district court in Georgia, landlords from Georgia, North Carolina, South Carolina, and Virginia are asking the court to stop the CDC from temporarily halting evictions through December 31, 2020.
"These evictions would disproportionately affect populations already hit hard by the novel coronavirus," Vlahov said. "People of color, the poor, and people who use drugs would add to the homeless population, making it even more difficult for a larger number of people to seek testing, treatment, and care. We hope that the court will recognize the importance of preventing the evictions."
Amici include numerous organizations striving to advance the health of children, adolescents, adults, and disadvantaged and minority populations, including the American Academy of Pediatrics and its chapters in each of the four states named in the case, the American Medical Association, Children's Healthwatch, GLMA: Health Professionals Advancing LGBTQ Equality, National Hispanic Medical Association, National Medical Association, Public Health Law Watch and the George Consortium, and the Southern Poverty Law Center. 
Individual amici include health, medical, and law faculty and researchers who are the nation's foremost experts on eviction, housing, and health. These include Yale School of Public Health faculty Dr. Gregg Gonsalves and Dr. Danya E. Keene.
Other individual amici include: Professor Emily A. Benfer (Columbia Law School), Dr. Matthew Desmond (Princeton University), Dr. Kathryn M. Leifheit (University of California at Los Angeles), Dr. Michael Z. Levy (University of Pennsylvania), Dr. Sabriya L. Linton (Johns Hopkins University), Dr. Craig E. Pollack (Johns Hopkins University), Dr. Julia Raifman (Boston University), and Dr. Gabriel L. Schwartz (Harvard University).