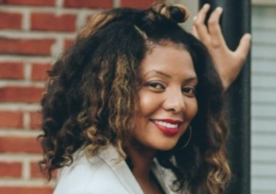 Nurse Midwifery/Women's Health student Ashleigh Evans '23 MSN placed first in the graduate student division of the TedxNewHaven competition and will make her winning presentation on June 11 at the Shubert Theater.
High school, college, and graduate students from across the state were invited to submit an "idea worth spreading," and Evans focused her speech on the alarming statistics of maternal mortality and possible solutions. She begins by explaining what makes a home birth so special.
"If I'm being honest, it's not the birth that's my favorite part. It's not the quiet transition into motherhood that happens in a birth pool at 2:00 a.m. It's not even the cute snuggly babies. My favorite part of childbirth — God's honest truth — are the dads. And honestly, it's because there's usually this pattern, where when you first meet the family, dads are always like 'we don't need a doula, we don't need support, I'm the support person, I'm all she needs.' 
"Then there's stage two, and that happens during transition, which is around 8 to 10 centimeters dilation, and they are absolutely, unadulteratedly terrified. They don't know what to do with their hands, where to stand. They want to go to the hospital—it's great. And then, the baby comes, and you can see the world change in their eyes."
Alarming Maternal Mortality Statistics
Evans then shares sobering statistics about maternal mortality in the US, especially for birthing people of color. Her speech covers that the average mortality rate in the America is 17.4 out of every 100,000 births, but the numbers shift drastically when broken out by race. Evans concludes that the rate for white birthing people is about 17, but the rate for Black birthing people is 44. 
"When it comes to maternal outcomes, the United States has the highest maternal mortality rate than any other developed nation," Evans says.
As Evans describes in her speech, the CDC's National Center for Health Statistics reports that Black maternal morbidity rose from 44 out of every 100,000 live births in 2018 to 55.3 in 2020.
Possible Solutions
In the final third of her compelling remarks, Evans pivots to possible solutions, including the CHOICES nonprofit birth center, abortion clinic, and outpatient gynecology clinic in Memphis, Tennessee. The city is 64% Black, and Evans states that there are only 900 Black nurse-midwives in the country. But CHOICES created a fellowship to help ensure that its staff that looked like the population it serves.
Evans also highlights Lucinda Canty, PhD, CNM, FACNM, Cynthia Hayes, and Scihonor Ruiz of Earth's Natural Touch, the largest Black-owned doula collective in New England. She describes how the trio consulted on a bill used to address disparities in maternal and infant outcomes in Connecticut, and the legislation now provides free doulas to those in need.
In addition to providing financial support for homebirths attended by NARM-certified Black midwives and assisting with the fees associated with formal training, Evans also recommends letting a pregnant person know you care and asking if they have a birth doula.
Three Rounds of Competition
Through three rounds of competition, Evans worked with the TEDxNewHaven team to develop her idea, and she received coaching on speech content and delivery. In the final round, she presented to a panel of judges that included educators, consultants, community advocates, public health officials, and lawyers. 
"The way I see TEDxNewHaven is a night to celebrate the minds, gifts, and talents of those who live in this incredible city," Evans said. "It is truly a humbling moment to be given an opportunity to even stand amongst some of these talented individuals. New Haven has a history rich with activism and perseverance; truly, what an honor to speak in it about something so close to my heart."  
Buy Tickets
Watch Evans and Yale College student winner Maia Cook '25 this weekend at TedxNewHaven. The event begins at 9:00 a.m. on Saturday, June 11, and tickets are still available.