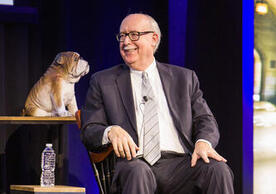 Yale Explores concluded the West Coast leg of its most recent tour in March in Los Angeles. This time, the assembled team of Yale faculty addressed issues pertaining to the "21st Century City and Society." Yale Nursing's own Associate Dean for Research David Vlahov, PhD., RN, FAAN took the stage as the panel's resident expert in urban health. 
He was joined on the dais by Karen Seto, the Frederick C. Hixon Professor of Geography and Urbanization Science at the Yale School of Forestry and Environmental Studies. David Schleicher, a professor at Yale Law School, shared extensive knowledge on election law, land use, and urban development. 
"It was a privilege to be part of Yale Explores and delve into urban health with such an engaged audience," Vlahov said. "Karen and David and I had a great discussion on these topics, and it was really special to see the Los Angeles community come out in support of tackling these issues." 
Former PBS NewHour global correspondent Margaret Warner '71 once again moderated the program, and President Peter Salovey '86 PhD bid a fond farewell to the crowd of nearly 400 guests. 
Yale Explores hits the road again in the fall, making stops in Denver, Houston, and Chicago.