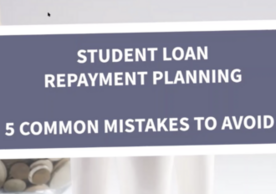 Dozens of people attended the "Eradicate Your Student Loans" virtual session on February 22, the final event in a slate of Black History Month programming sponsored by the Yale School of Nursing (YSN) Office of Diversity, Equity, and Inclusion. The session was moderated by Assistant Director of Financial Aid Wesley E. Revangil.
Certified student loan professional Meagan Landress of Student Loan Planner spoke fluent alphabet soup, patiently guiding the audience through a sea of acronyms for loan types and repayments plans. Landress has advised more than 800 clients on how to tackle more than $130 million in school debt.
At the start, Landress shared a rule of thumb for how to treat student loans. If the balance is less than annual income, she recommends treating the loan like a debt and paying it off aggressively. If the balance is greater than annual income, Landress said it's more strategic to treat the loan like a tax and pay as little as possible in order to maximize that amount of the loan that will be forgiven later. 
She also shared five quick tips for borrowers to keep in mind:
Beware of paying debt back at the wrong time
Pursue your life goals and dreams during repayment
Limit spending, especially on houses and cars
Choose the right repayment plan
Pay as much as possible or as little as possible on the loans
"Our federal loan system is very complex," Landress said, so borrowers shouldn't be discouraged if they don't have all the answers. And even though the balances can feel overwhelming, Landress gave reason not to despair. "There is always going to be a plan that works for somebody," Landress said.
Landress encouraged borrowers to concentrate more on the repayment strategy rather than the amount of the total balance to make it feel more manageable. She used an online calculator to walk through a few examples of how choosing the right payment plan can result in big savings for borrowers.
Student Loan Forgiveness
Public service loan forgiveness options were of particular interest to the nursing student audience, and Landress ran down a few basics. To be eligible, nurses need to meet five criteria: work for a qualifying employer, work full time, have direct loans, be on an income-driven plan to pay off the loans, and make 120 qualifying payments. 
Landress said that "full time" is usually defined as 30 or more hours per week, but some employers can have different hourly requirements. And those 30 hours do not all have to be with the same employer: as long as the hours are all for qualifying employers and add up to the definition of full time, the requirement has been met. 
Another tidbit from Landress is that the 120 qualifying payments must be on time and in full, but do not have to be consecutive. 
Landress noted that nurses have multiple unique opportunities for loan forgiveness, including Nurse Corps and Health Resources and Services Administration (HRSA) National Health Service Corps scholarships
For more information on eliminating school debt, Landress directed the audience to the Student Loan Planner blog and podcast. 
A Month of Programming
The YSN Office of Diversity, Equity and Inclusion provided Black History Month events throughout February. In addition to this presentation, the free programming has also included a virtual talk with two experts about working in Federally Qualified Health Centers (FQHCs), a discussion of how to build wealth while nursing, a social event for Black YSN students and alumni, and a Black student mixer for a trio of Yale graduate schools: YSN and the Schools of Public Health and Medicine.
---