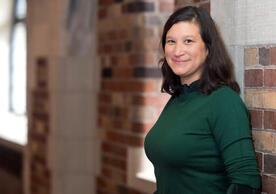 By Mallory Locklear
Before pursuing a career in nursing, Bridget Basile Ibrahim was an anthropologist. At their core, she says, the two fields are actually quite similar: They require one to take a holistic view of the person in front of you.
Basile Ibrahim, who earned her Ph.D. at Yale School of Nursing, is now back at the school as a member of the faculty. We recently caught up with her for the latest edition of Office Hours, a Q&A series that introduces Yale newcomers to the broader university community.
Title: Assistant Professor in Nursing
Research Interest: Improving the quality of maternity care for marginalized women and pregnant people.
Prior Institution: University of Minnesota School of Public Health
Started at Yale: July 1, 2022
How would you describe your research to someone not in health care?
Bridget Basile Ibrahim: My research centers on women and pregnant people and their experiences with the health care system. I'm interested in how these experiences may impact the health inequities that we know exist, particularly for Black and Brown birthing people but also others who are marginalized by things such as socioeconomic status, immigration status, or geography. I look at the intersections of all of these different characteristics and how they might be influencing outcomes and how the quality of care that we provide as perinatal care providers can impact these outcomes.
How did you become interested in this area?
Basile Ibrahim: I've always been interested in pregnancy, birth, and breastfeeding. My clinical work, first as a registered nurse and then as a nurse practitioner, was in community health centers and with marginalized populations. And in my own life, as I became pregnant and had a baby, I had difficulty navigating the health care system. I thought about my patients and how most of them are not health care providers and don't have the same skills or resources I do. I thought about how much more difficult it would be for them to navigate the system and to access the choices and the high quality, respectful care they deserve, and that's what got me into my current work.
What led you from anthropology to nursing and does your anthropology background influence your current work?
Basile Ibrahim: It absolutely does. At the heart of anthropology is a holistic worldview, taking into context culture, and environment, and all these social determinants. And that really segues right into my nursing care and research.
I worked in international development for groups like the United States Agency for International Development and the World Bank. And what kept coming back to me was that while we were trying to help farmers increase their profits, those farmers weren't going to be able to take advantage of our programs if they didn't have basic needs met, such as health care and education. If they weren't healthy enough to farm or couldn't read the fertilizer instructions, then it didn't really matter if they had adequate access to markets for their crops.
I wanted to make more of a direct impact on the people on the ground and within my own community. That led me to nursing, which is also really focused on the holistic person, so it dovetails well with anthropology. The person is at the center in both.
What are your favorite ways to keep active?
Basile Ibrahim: My family and I like to swim, sail, and kayak. And I'm looking to take up rowing this winter. I also run 5Ks. I've been doing them since college and try to do at least one a month. My daughters, they're 7 and 10, have started joining me, which has been fun.
This piece was originally published in Yale News.