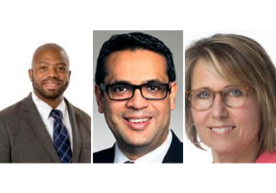 Dr. LaRon E. Nelson, PhD, RN, FNP, FNAP, FAAN, Dr. Saad B. Omer MBBS, MPH, PhD, FIDSA, and Dr. Robin Whittemore, PhD, APRN, FAAN, are serving on working groups established by the Yale School of Medicine (YSM) to address the priorities identified in the University Science Strategy Committee (USSC) report. Nelson and Omer are concentrating on health equity and Whittemore will focus on matching researchers with collaborations across disciplines.
In 2018, the USSC recommended five priority ideas for investment: Data Science and its Mathematical Foundations; Quantum Science, Engineering, and Materials; Neuroscience, from Molecules to Mind; Inflammation Science; and Environmental and Evolutionary Sciences. The USSC also focused on four cross-cutting areas for investment: Graduate Student Support in STEM Fields; Diversity throughout the STEM Pipeline; Instrumentation Development; and Core Facilities. 
"It was an important move to add health equity to this list of university priorities," Nelson said. 
"The COVID-19 pandemic has exposed how systems produce health inequities at every level of care. The actions we take now can help reverse these patterns and advance systems that promote better health to all people, communities and the planet."
Whittemore is looking forward to strengthening partnerships across the university. "The work of these committees is meant to foster innovation, enhance collaboration across disciplines and departments, and improve the translation of research into clinical and community settings, with a focus on health equity," she said.
YSM Dean Nancy J. Brown, MD, praised the talents of the faculty involved in this project. "The groups are comprised entirely of Next Generation leaders—energetic, innovative, and committed members of our community," Brown said. "We hope that the strategic planning process itself will bring together colleagues from multiple disciplines across the School of Medicine and the University. We expect that their ideas will inspire us." 
For additional information on Dr. Nelson's research on health disparities, see YSN News. Learn more about the USSC's work here.