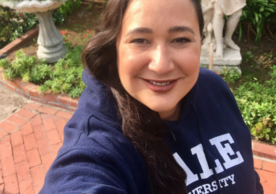 It is an understatement to describe Courtney Farr '06 MSN, FNP, APRN-BC as a determined person. She currently works full-time at Veterans Affairs, manages her House Calls Mobile startup of telehealth practitioners, is seeking a patent for her virtual stethoscope/otoscope, and navigating the labyrinthine process of FDA approval for her invention. She also holds a leadership role at the Yale Club of Santa Barbara and might even sleep occasionally.
"YSN gave me a lot of strength," Farr said. "I feel like I ran a marathon, and now that I finished it, I can do anything. Anything is easier than that!"
Farr's perseverant spirit took root at an early age. Her childhood was marked by poverty in rural California, a tiny town of 800 people where her dad worked on a backhoe tractor digging ditches instead of as a teacher because there was only one school with no vacancies. When her mom, Rita Farr, got sick, the last thing she wanted to do was take the family's food money to visit a doctor. So she called her own mother to discuss the lump in her breast. "It's okay," Farr's grandmother replied. "I have one, too."
As a teenager, Courtney cared for her mother, participated in home school, and then attended community college classes at night. After more than a decade living with breast cancer, Rita passed away when Farr was 15.
"I think sometimes when you lose a family member, you don't want their death to be in vain," Farr said. "You want their life to have made a purpose for you to live on with their memory."
"Taking care of my mom was a large motivation for me getting in to YSN—I wanted to make her proud and make something of myself. I wanted to try to do something to further her memory and help other people."
Overcoming Barriers to Care
As an Indigenous woman, Farr is familiar with the daunting barriers to care facing marginalized communities.
"I was eating crackers out of the patient fridge at one point," Farr said. "I can tell patients in these situations: 'I understand. I understand the fear and the hurt and how hard it is because I've been there.'"
Farr worked for more than a decade in the inner city of Washington, D.C., where she discovered that the difficulties low-income urban families face are strikingly similar to those of poor rural families. Instead of consulting a doctor they can't afford, these patients seek counsel from family or community members, as Rita did. Sometimes the advice is applicable, and sometimes it is not well-informed.
"I knew we needed an affordable way for people to access care anywhere," Farr said. "I knew a video platform could work well and I could see a patient from my phone. What tools would I need to make a video visit the most effective? I immediately thought of my stethoscope and otoscope. They let me assess ears, nose, heart, and lungs."
With those goals in mind, Farr was determined to take the next step.
Patent Pending
In an effort to bring high-quality care into a patient's home, no matter their income level or zip code, Farr invented the virtual stethoscope/otoscope.
"In school they always told us that 90% of a diagnosis is the history, and 10% more is the physical exam. A provider already knows what they're doing for the most part before you even get there," Farr said. 
Confident and determined that she could provide excellent care virtually, Farr worked with a developer in India to create a platform and a two-part app for the virtual stethoscope, which plugs into a smartphone. She tapped biomedical students at California Polytechnic State University to help with the 3D-printed prototype and ordered the special circuit through a manufacturer in China.
Farr has filed her provisional patent and submitted application fees for FDA approval. The virtual stethoscope is known as a Class 2 device, meaning it is considered similar to existing products and that approval could progress more quickly. 
However, the FDA reached out during the COVID-19 pandemic to let her know the device could be approved for emergency use. Up next is the electrical safety test, an expensive assessment that only a specialized lab can conduct. Farr also plans to utilize her local network to provide subject matter expertise on the prototype, which currently can be produced for only $15 per unit.
"I want to keep it at a reasonable price," Farr said. "I want everyone to have one in their house."
A Community of Yalies
When Farr was starting House Calls Mobile, she was floundering around a bit and searching for some direction. She flew back from the West Coast to attend a conference at the School of Management (SOM) and was immediately reinvigorated.
"I felt so energized, being surrounded by people who wanted to see me succeed," Farr said. "I needed advice and guidance, and that's exactly what I got. There's something special about being around a lot of people focused on education and advancement and teaching; it was a neat environment."
Farr got a tip to check out her local small business development center, which is how she connected with her patent attorney. She also began strategically exploring the entire Yale network, not only YSN alums. In addition to SOM, Farr has had terrific interactions or ongoing partnerships with alumni at the Law School and School of Medicine.
"Access to the alumni network is so valuable," Farr said. "Especially with a startup because you want to pull on every resource you have. My Yale degree has really opened a lot of doors for me."
---
Learn More
To learn more about YSN alumni inventors and innovators, please see Nursing Entrepreneurs Launch Online Mental Health Practice To Address COVID-19 Needs and YSN Excites With New Nursing Applications.
Strengthen Your Alumni Connections
Connect with YSN Alumni and current students on Cross Campus, Yale's new online community-building program. Give and get career mentorship and life wisdom from the YSN community and access the wider world of Yale University alumni as well. Join now at crosscampus.yale.edu.