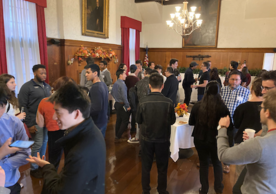 By Steve Blum '74
Brought together by a shared hunger to grow as leaders, more than 80 applicants — 50 graduate/professional students alongside 30 undergrads — convened with a team of Yale alumni on an early-November weekend. Together, in a nine-hour, two-day deep-dive, they explored the essence of leadership and followership.
Held next to campus at the Elm City Club, the Student-Alumni Leadership Forum was sponsored by the Yale Alumni Association (YAA) and by Students and Alumni of Yale (STAY). Beforehand, participants considered more than 20 leadership and teamwork articles and thought pieces. The forum, which had been sold out for weeks, featured alumni discussion leaders with varied leadership stories to share with students. 
Five featured alums shared insights gained from world class sports competition, business startups, exotic journeys to write bestselling books, surviving cancer, and navigating countless career pivots. The forum's participants discussed ideas over shared meals and broke into groups to problem-solve personal and organizational leadership challenges.
"We tap into a deep campus hunger for insights on leadership and teamwork," said alumnus Steve Blum '74, senior director for strategic initiatives at the YAA and the forum's facilitator. 
At this year's forum, students gathered in breakout groups to discuss and problem-solve personal leadership and organizational leadership challenges.
"Because these opportunities used to be hard for students to come by on or off campus, STAY student leaders teamed with the YAA more than a decade ago to create annual forums," he added.
Johnnie Bird '22, a Yale Divinity School alum who has now led discussions for the past two leadership forums, emphasized the forum's uniqueness: "[each forum] provides a priceless space for holistic conversations around leadership and teamwork – aimed at tomorrow's emerging leaders and their teams."
Caroline Tanbee Smith '14, a New Haven alum who closed out the forum by leading this year's Day Two leadership discussion, has attended for many of the past eight years: "Attending has been a privilege since I was an undergrad! Each forum draws out a special mix of student and alumni wisdom, expertise, and curiosity. As a discussion leader, I was fascinated by the diversity of student perspectives  — each culling stories from education advocacy to entrepreneurship to reproductive justice." 
"Each forum blends undergraduates, graduates, and alums. Promoting interaction between these three groups brings increased breadth and depth of experience to the table," said Tyler Schroder, a STAY student leader. "Younger participants gain insight from those with more experience while older participants benefit from the fresh perspective that their younger counterparts offer," Schroder explained.
The team also has worked hard to bring in dynamic speakers from diverse backgrounds. Past forums' featured alumni have included innovators, an Olympic medalist, Rhodes and Marshall Scholars, an executive of the World Bank, a retired Army General, Yale Medal winners, a nearby college President, movers-and-shakers in financial services, not-for-profit and healthcare leaders, trial lawyers, and more. The forum's speakers candidly discussed personal insecurities and failures as they sought to distill lessons for successful leadership.
Johnnie Bird '22 MAR leads the kickoff session on the second day of the Leadership Forum
Over the course of the two-day forum, participants engaged in spontaneous discussions about what leadership styles are best for different contexts, how leaders differ from managers, and why motivations closely influence effective leadership.
"The Leadership Forum seeks to ensure that participants continue their leadership development far beyond the two days," Blum said.
When asked about this afterwards, Schroder added, "This was my first Leadership Forum – a great learning and networking opportunity. Can't wait for more."
Yale School of Nursing student Rafael Castellanos '24 MSN noted, "Every activity was so well thought out. Our alums were super engaging and helpful. It brought me deeper into our greater Yale community of students and alumni in a way that planted the seeds for my involvement long after graduation."
"Building community by connecting Yale alumni with students is a fantastic investment to strengthen Yale for decades. After forums like this, we're even more eager to pay it forward. What an incredible value-add!"
Between discussions led by alumni, networking sessions provided opportunities for students and alumni to forge deeper connections.
"The forum's sponsors plan to hold follow-up, in-person mini-forums for participants to continue their conversations," said Eleanor Schoenbrun, another of STAY's student leaders. Having attended last year's forum, which was virtual, Schoenbrun also noted how wonderful it was to have this year's forum in person.
Blum added that past Leadership Forums have yielded a "gold mine" of information via student applications. Over the past decade, organizers have received more than 2,000 applications to attend. In them, applicants have described more than 3,000 leadership challenges that they have faced. They've detailed why they care about leadership and teamwork.
Blum said he believes that the amount of data that organizers have gathered may even provide insights on leadership trends across years or within particular Yale cohorts.
In 2023, STAY and the YAA will host the next leadership forum.
This piece first appeared in Yale Alumni Association.