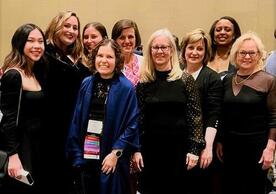 Yale School of Nursing (YSN) students, faculty, and alumni in the Pediatric Nurse Practitioner (PNP) specialty recently presented their scholarship at the National Association of Pediatric Nurse Practitioners (NAPNAP) conference in Orlando. 
Student Work
PNP students Hibah Mahwish Askari '23 MSN and Yasaman Kazemi '23 MSN worked with Family Nurse Practitioner (FNP) and Yale School of Public Health student Erica Rayack '23 MSN, '23 MPH to present the poster "Routine Saliva Testing for SARS-CoV-2 in Children: Partnering with Childcare Centers in the Greater New Haven Community." Their work was featured in Clinical Advisor on behalf of NAPNAP.
Askari described the effort this way: "By allowing for early detection, transmission can be mitigated, allowing childcare centers to remain open. Especially during a wave or rise of community infections, this kind of sensitive asymptomatic testing is of course favorable to no testing at all."
Askari, Kaemi, and Rayack also co-authored a publication in Frontiers in Public Health on the study's methodology. 
A total of 142 children and 124 childcare staff participated in the study, and 3,509 saliva samples were collected. As noted in the "Results and Lessons Learned" section: "Family and community engagement was vital to the project's success and served as its foundation. Caregivers and childcare leadership were also considered partners and often met with research team members to provide meaningful suggestions on study protocols, help establish rapport with the childcare community, and provide access to useful local resources."
Faculty Presentations
Associate Professor in Nursing Elizabeth Ann Doyle '95 MSN, DNP, APRN, PPCNP-BC, BC-ADM, CDCESpresented on the topic "Unique Disordered Eating Behaviors in Adolescents and Young Adults with Type 1 Diabetes: Screening in Primary Care Can Save Lives." 
Lauren Flagg, DNP, CPNP-AC, APRN presented her findings on "Improving Delirium Recognition in the PICU and PCICU."
Professor of Nursing and PNP Primary Care Specialty Director Alison Moriarty Daley '94 MSN, PhD, APRN, PPCNP-BC, FAAN partnered with Wendy U. and Thomas C. Naratil Professor of Nursing and PNP Acute Care Specialty Director Nancy Cantey Banasiak, DNP, PNP, PPCNP-BC, APRN, and Lecturer Nicole Langan Maciejak '06 MSN, APRN, CPNP to present "Rising to the Challenge: Creating Simulation Experiences to Train PNP Students to Meet the Mental and Behavioral Health Needs of Children and Adolescents in Primary Care." 
Dr. Moriarty Daley also presented two clinical sessions: "A Royal Pain! Treating Adolescents with Dysmenorrhea" and "Is Your Office Adolescent-Friendly?" 
Professor of Nursing and Chair of the Master's Program Martha K. Swartz, PhD, RN, CPNP, FAAN presented her work on "Current Issues in Scholarly Publication: Integrity, DEIB and Social Media." NAPNAP previously announced that Dr. Swartz will retire from her role as editor-in-chief of the Journal of Pediatric Health Care on June 30 after almost 15 years of dedicated service to furthering pediatric and advanced practice nursing research and scholarship.
Alumni Recognition
NAPNAP is celebrating its 50th anniversary this year, and many PNP YSN alumni also attended. NAPNAP recognition of YSN alumni includes the Leader Award presented to Mary Gallagher '13 MSN, MPH, CPNP-PC.