New York Times Opinion video journalist Alexander Battu Stockton saluted the newest members of the Delta Mu chapter of the Sigma Theta Tau International nursing honor society during a virtual ceremony on May 18. Stockton's short film "Death, Through a Nurse's Eyes," chronicles ICU nurses in Phoenix, AZ in January, when the state had the highest rates of COVID-19 in the world. 
"I wanted to shine a light on this burden they bear," Stockton said. "I don't think people truly understand what it is that nurses have gone through."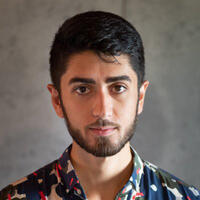 Stockton's film has garnered more than 5 million views.
Stockton praised nurses for the thousand acts of kindness he witnessed in just those few days and for always returning to fight a Sisyphean battle during the ongoing pandemic. "For all the horror and tragedy I've seen in reporting on the pandemic," he said, "what I will remember most is the heroism, the empathy, and kindness exhibited by nurses."
Other speakers included Sigma Theta Tau president Richard Ricciardo, PhD, FAANP, FAAN and chapter president Andrée de Lisser '79 MSN, DNP, APRN, PMHCNS-BC.
de Lisser remarked that while the appreciation for the profession during the pandemic is welcome, it leaves out a greater context.
"What we don't validate enough is how truly difficult it is to do this work," she said. "How lonely it can feel when others outside of it can't grasp the intensity, the intimacy, the urgency of what we experience, the relationships we forge and navigate, the frustrations—and yes, the joys—of what we witness every day. Clearly COVID, and Alex's moving film have validated that. Your honor society should and will validate that for you."
And there was more to celebrate. Linda Ghampson, MSN, RN, presented the Dorothy Sexton Mentorship Award to Director of the new Clinical Doctor of Nursing Practice (DNP) program Joanne Iennaco, '05 MPhil, '09 PhD, APRN, PMHNP-BC. The distinction has been awarded since 2004 and honors a recipient for their self-knowledge, strategic vision, risk-taking and creativity, interpersonal and communication effectiveness, and inspiration.
Congratulations to all of the new members:
A-F
Michael Dustin Bass
Caryl Behmoiras
Melia Bernal
Claude Bonnet
Emily Borland
Elyse Sharon Borsuk
Tess Brickley
Emily Brown
Emma Shoshana Brown
Bernadette Cameron
Meredith Campbell
Paula Constantine
Lisa Czaplinski
Nicole Devaney
Kathy Doan
Patricia Dowley
Eva Dunder
Christina Dykas
Elisabeth Farmer
Hannah W. Frankel
Kristen Fuller
G-L
Josephine Garcesa-Duque
Valerie Garcia
Stefanie Generao
Anisha Gill
Leoncia Kaye Gillespie
Elizabeth Abigail Grant
Sydney Greenberg
Jonathan Michael Harper
Lindsey Harrigan
Yonatan Hochstein
Emily Houston
Kierra Jackson
Jenilee Jaquez
Chloe Kiester
Corina Kirwin
Josh Korb
MaryEllen Hope Kosturko
Andrea Lewis
Lauren Lewis
Dana Joy Tze En Loo
Sarah Anne Lovell
Janice Lu
Jacqueline Ly
M-R
Raji Maddela
Victor Manuel Martinez Garcia
Amy Martone
Mindy Marie Matthews
Leah Mattiaccio
Timothy Sullivan McGehee
Nicole Messina
Lena Mininberg
Briana Mitchell
Marian Montano
Cyma Mounzer
Riana Lynn Nicolaysen
Kristen Nocka
Ali Olson
Ruby Parris
Dalia Pena-Solorzano
Haley Pleskow
Abby Pringle
Ellie Anne Reck
Allysa Reimer
Kevin Richardson
Jonathan Roberts
Marina Rosenberg
S-Z
Rachel Lynn Sanacora
Kirsten Scharer
Ashley Shaver
Neelu Shruti
Amy Smith
Rachel Smolskis
Charlotte Sperling
Olivia Stillman
Sophia Tollefson
Skylar Van Steemburg
Christopher Vargas
Ben Venter
Luis Vera
Max Vieira
Shiliu Wang
Emma Watkins
Helen Marie Watson
Sarah Weas
Renee White
Valerie Williams
Sarah Zoubaa