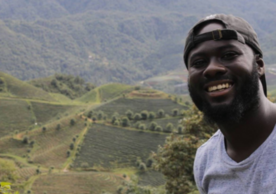 The incoming Graduate Entry Prespecialty in Nursing (GEPN) students applied to Yale School of Nursing (YSN) before COVID-19 changed the world. In addition to forever altering the health care landscape, the pandemic also exposed longstanding heath inequities, and members of the new class are fiercely determined to do something about that. Yale Nursing Matters talked to a brand new GEPN about his journey to Yale and his plans after graduation.
Kwaku Gyasi was born in Obuasi, a small rural town in Ghana, West Africa. His mother has been a practicing midwife for nearly three decades, but Gyasi's journey to nursing came less from family influence and more from a series of powerful internships as an undergraduate. He supported residents in a dignified housing complex; delivered educational programming to doctors in Vietnam; and conducted research on the Broader Autism Phenotype. He spent the last two years working with underserved residents on Governor Cuomo's NYS Department of Health Breast and Prostate Cancer Peer Education Project.
YNM: WHY DID YOU CHOOSE YSN AS THE BEST PLACE TO TAKE THE NEXT STEP IN YOUR LIFE AND CAREER?
KG: The mission of "better health for all people" resonates with my own values of high standards and service and this is was what attracted me to the school in the first place.
In addition, YSN has a rigorous curriculum, state-of-the-art facilities, and a world-class faculty I believe will be influential in molding me into a competent and well-learned health care provider. Finally, being that I someday would like to help improve psychiatric care in West Africa, the global concentration at YSN allows me to gain the necessary experience and collaborate with peers and faculty who are already well versed in these areas.
YNM: TELL US ABOUT WHY YOU CHOSE THE PSYCHIATRIC MENTAL HEALTH SPECIALTY.
KG: Before immigrating to the United States in 2014, while educating farmers about land ownership in Ghana, I saw communities deprived of affordable health care and specifically, quality mental health care. I saw how the misguided belief that mental illness can only be treated with prayer and deliverance stigmatized those living with these conditions. I saw people with mental illness excluded from mainstream society and subjected to chain restraints and flogging.
When I settled in the Bronx, I quickly realized that my new community also struggled with its own set of mental health care challenges based in racial, ethnic, and economic disparities. My goal is to help ensure vulnerable populations both in the United States and West Africa get
the best psychiatric care possible based on evidence-based practice while also providing resources that reduce stigma and access to care.
YNM: YOU APPLIED TO YSN IN A WORLD BEFORE COVID-19. HOW HAS THE PANDEMIC CHANGED YOUR CAREER OUTLOOK?
KG: COVID-19 has exposed many of the discrepancies that health advocates have been hammering on for so long. With 2020 being the Year of the Nurse and the Midwife, this pandemic reiterates the role nurses have in addressing health inequities. Nurses use a holistic approach in delivering health care, and the presenting illness isn't the only focus. The entire story of the patient is considered. This is the kind of provider I aspire to be. In this regard, I am more eager to complete my education and join my fellow men and women on the front lines.
---
this article and many more can be found in the fall 2020 issue of yale nursing matters, read more.