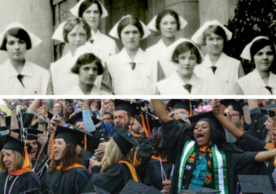 Yesterday evening Yale University President Peter Salovey and Provost Scott Strobel announced a historic commitment to Yale School of Nursing (YSN): $50 million in endowed matching funds over five years. The amount is unprecedented in the school's history.
"This joyous news arrives in the final year of YSN's first century, and we are grateful to incorporate this extraordinary investment into our planning for the next 100 years," said Dean Ann Kurth'90 MSN, PhD, CNM, MPH, FAAAN. "This opportunity challenges YSN to match the university during the For Humanity campaign to address priorities such as financial aid and other initiatives to bring greater diversity, equity, inclusion, and impact to the nation's most trusted profession."
YSN Dean's Leadership Council Chair Jim Leitner, a Yale College alumnus and a Yale parent, praised the university for its bold action.
"When the For Humanity campaign began, we knew that this would be a pivotal opportunity for YSN. The COVID-19 pandemic has shown everyone that the world needs more nurses and midwives, and we also know that those providers need more support. This unprecedented announcement from the university signals that they believe what we believe: that an investment in YSN is among the most effective contributions you can make at Yale."
DLC member and former university secretary and vice president Linda Lorimer served Yale in official capacities for three decades after graduating from Yale Law School. 
"By making this commitment, the university is saying very clearly that Nursing matters," Lorimer said. "Now is the time for many of us to stretch in our giving to catapult the school ahead to educate the next generation of extraordinary healthcare leaders, scientists, and practitioners who can bring better health to all people. What a way to start the school's capital campaign!"
YSN celebrates its centennial in 2023.