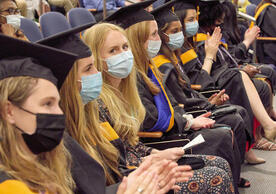 Members of the Yale School of Nursing (YSN) Classes of 2020 and 2021 returned to Yale on Saturday, May 14, to celebrate an especially hard-won Commencement. 
As Dean Ann Kurth '90 MSN, PhD, CNM, MPH, FAAN mentioned in her remarks, the Class of 2020 walked out the door for spring break completely unaware that they would never spend another day taking notes in the Moore Classroom, practicing sutures in the Simulation Lab, or grabbing a quick snack in the Hub before clinical.
"Many members of this class started their nursing careers on Covid floors in acute care settings or have worked with nurses and midwives who did. This class bore the brunt of the national uncertainty that was so prevalent at that time," Dean Kurth said.
The Class of 2021 faced a different set of challenges. First, they saw YSN transform into Zoom University, and then they experienced the thrill of efficacious vaccine introduction and the disappointment that the science didn't solve everything.
Interim Associate Dean of Student Life and Belonging and Director of the Midwifery Faculty Practice Erin Morelli celebrated the graduates and the support system that helped along the way.
"We are so in awe of you and proud of you. You leave your mark on our school and community, and we look forward to your impact on the various communities you will serve and organizations that you will call home," Morelli said.
"We thank you for sharing your professional and graduate journey with us at YSN. And, we are especially thankful to your partners, children, families, and loved ones for sharing you with us."
Morelli also thanked the graduates for the unique contributions they made to their own ceremony.
"I'd like to express my gratitude to everyone here who responded to my random texts, polled their classmates about interest in attending, and helped us get the word out on social media. We all literally would not be here today without you!"
Student Speaker Camille Lawhead
Camille Lawhead '20 MSN served as the student marshal for morning festivities on Old Campus and also gave the student address. She described the Commencement that students created for themselves in 2020.
"Two years ago, my roommates and I gathered in our yard to watch our graduation video. My roommate, Sara Culver, made paper graduation caps for us, and for her dog. We took photos with beautiful mini diplomas that our classmate Eva Weintraub had designed. 
I crashed a drive-by celebration the midwifery faculty threw in one of their front yards. My mother baked a cake, decorated it as a scrub top, and mailed it. It arrived in surprisingly good condition.
The night before, Eva had organized another virtual graduation ceremony, featuring video submissions from members of our class. There were skits, multiple original songs, and guest appearances by YSN titans Linda Honan and Neal Greene."
A Remembrance of Claudia Lamparzyk '20 MSN
Lawhead also provided a powerful remembrance of a classmate in her remarks. 
"I think especially of Claudia Lamparzyk, a member of the class of 2020, who passed away in November of that year. Claudia was a kind, thoughtful, driven midwife, and her commitment to nursing and midwifery always radiated. She was a doula, a swimmer, a painter, a friend, and a mother. She is deeply missed."
Lamparzyk was also a writer, and her submission to YSN's annual Creative Writing Awards progressed to the final round of prize consideration. Read her essay here.
Annie Goodrich Teaching Award 
During the diploma ceremony in the Grace Hopper Auditorium at the West Campus Conference Center, the 2020 prize winners finally savored the moment of walking across the stage in recognition of their achievements. 2021 winners had previously celebrated last year at a limited-seating, in-person ceremony.
Class of 2020 Student Government Organization President Travis McCann was saluted as the banner bearer for the Old Campus procession in the morning and the West Campus events in the afternoon.
Dr. Dilice Robertson '08 MSN, DNP, APRN, PMHCNS-BC, PMHNP-BC was presented with the Annie Goodrich Award for Excellence in Teaching. She is a Lecturer in the Psychiatric Mental Health Nurse Practitioner specialty. 
During the COVID-19 outbreak, Dr. Robertson created a space for students to talk about their concerns with their jobs, homes, and families. She started each Zoom call with a mindfulness exercise and encouraged students to bring exercises they could facilitate with the group. 
As a preceptor liaison, she built many trusting relationships with clinicians in the community, and she works to ensure that YSN psychiatric–mental health NP students experience the lifecourse of clinical care delivery. She maintains a clinical practice serving children and adolescents. 
Associate Professor in the Pediatric Nurse Practitioner specialty Dr. Elizabeth Doyle '95 MSN DNP, APRN, PNP-BC, BC-ADM, CDCES, was saluted as the 2021 winner. In their nomination, students described her as an outstanding and caring faculty member who goes above and beyond the call to invest in their education as evidenced by innovative assignments and additional opportunities for learning curated for her students. 
King, Sidney, and Reynolds Prizes
Lawhead was honored as the 2020 recipient of the Charles King Junior Memorial Scholars Aid Prize, traditionally presented to the graduating student who is has demonstrated outstanding performance in scholarship, research, and clinical practice and who, through accomplishments in and leadership of all aspects of study, inspires others.
The audience also gave a round of applause to the 2021 winner, Madeline Carrellas '21 MSN.
The Milton and Anne Sidney Prize is awarded to the graduating student who, in the judgment of the faculty, best exemplifies the School's commitment to clinical research and its mission to contribute to better health for all people.
The recipient of the Prize must demonstrate creative clinical scholarship in the conceptualization of the problem under study, methodological and analytical competence, and excellence in writing. Above all, the study must be one that will make a difference in the delivery of nursing care for the recipients of that care.
Dr. Bridget Lynn Basile Ibrahim '20 PhD was honored as the 2020 recipient of this prize, and the audience also recognized the accomplishments of the 2021 winner, Manjeet Kaur '21 MSN.
YSN introduced a new prize in 2021, the Heather Dawn Reynolds Equity Award. From now on, it will be presented annually to a person in the YSN community who shows an unwavering commitment to help YSN address diversity, equity, inclusion, and belonging. 
The inaugural and namesake honoree Heather Reynolds '80 MSN, CNM, FACNM joined the faculty in 1986, lecturing in the nurse-midwifery specialty, and she led the nurse-midwifery practice at Yale New Haven Hospital from 1988 to 2002, caring for patients and attending the births of two generations of birthing people. 
Music and Special Guests
Florrie Marshall '18 MM, '26 Doctor of Musical Arts and Kate Arndt '19 MM, '26 Doctor of Musical Arts greeted graduates and guests with joyful music for mingling before the ceremony, and St. Luke's Steel Band provided a festive playlist for the reception.
Service Dog Heidi and handler Officer Simons of the Yale University Police Department visited with attendees before the ceremony, 
The YSN staff volunteers checking in guests, finalizing stage directions, and managing event details were especially motivated to welcome back and recognize this group of graduates. They represented the Offices of the Dean, Clinical Support, Communications, Development, and Admissions. 
Dean Morelli praised their contributions using the highest language of a popular Tik Tok trend: "They all understood the assignment." 
Photos and Full Program
For photos of this event, check out YSN social media on Facebook, Instagram, LinkedIn, and Twitter.