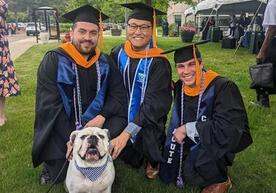 By Carissa Violante | Yale Alumni Association
Meet Luis Vera '21 CN, '23 MSN, a recent graduate from the Yale School of Nursing (YSN) and a dedicated healthcare professional who is deeply committed to enhancing the lives of those under his care. 
In this Latinx and Hispanic Heritage Month Alumni Identity Spotlight, Luis shares how his education has empowered him to give back to the Latinx community and encourages fellow Yalies to embrace the possibilities of the present moment. 
This feature is part of a series focused on amplifying the voices of alumni who are making an impact today and illuminating how the identities we bring to Yale transform both our community and the world. 
---
This piece was originally published by the Yale Alumni Association. Read the complete article here, including Luis's most enduring memory of his time at YSN, how his identify shaped his Yale experience, and his hopes for the future of the Yale alumni community.