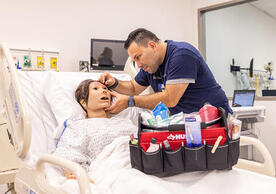 Gustavo Carrillo, simulation lab technologist
The figure on the bed moans as blood seeps from her head wound. She starts to breathe erratically and her pulse skyrockets, setting off an alarm on the vital stats monitor. This may look like a scene out of a TV medical drama, but this patient at the School of Nursing's Simulation Lab is one of 16 high-tech manikins, hyper-realistic simulators used for training nurses for a variety of scenarios.
Gustavo Carrillo brings these medical manikins to life using a moulage kit (make-up colors and palettes, brushes, adhesives, cleaning supplies, food colorants, silicone mixtures, gloves, scissors, tweezers) to create fake blood, wounds, and bodily fluids. He operates the manikin from a control room, opening and closing her eyes, making her breathe, adjusting her vitals, and sometimes serving as her voice.
At 18, Gustavo immigrated from Guatemala to the U.S. and earned his degree in computer science with a minor in business administration from Albertus Magnus College. "I think I was always meant to be here, to provide my expertise for the good of the students," he says. "It is a responsibility I carry with me every day, to demonstrate that as part of the Latino community, we came to this country to work hard for a better future for our families."
This piece was written by Linda Clarke and originally appeared in It's Your Yale.