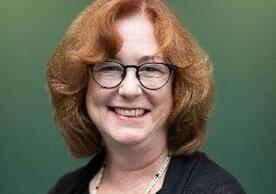 Yale School of Nursing (YSN) recently announced Gail McCulloch as the incoming Associate Dean for Development and Alumni Affairs, just ahead of Yale's next multi-year, multi-billion-dollar capital campaign that launches in October. McCulloch starts at YSN this week.
"I am thrilled to join the YSN community at such a pivotal time," McCulloch said. "The COVID-19 global pandemic has made clear the critical role that nurses play in our health care system, and the school's mission to bring better health to all people is an inspiring one. I am looking forward to meeting all my colleagues to help fulfill this goal."
McCulloch is an experienced professional in higher education fundraising, working with donors at all levels of commitment from annual giving to eight-figure gifts. She arrives from Stony Brook University where over the last six years she built development programs for the School of Journalism and the Alan Alda Center for Communicating Science as their Director of Development and Alumni Relations. 
In addition to fundraising major gift solicitations from individuals, foundations, and corporations while at Stony Brook, McCulloch was the liaison for external partnerships, and she led Giving Day and other strategic event planning and implementation. 
"Gail's entrepreneurial spirit and proven success will serve her well in this role at a crucial time," said Dean Ann Kurth '90 MSN, PhD, CNM, MPH, FAAN. "Not only are we looking ahead to the wider university's efforts starting this fall, but to the school's centennial in 2023."
One of McCulloch's previous appointments was with the University of Michigan as Director of Development and Gift Planning for the School of Public Health (UM-SPH), where for over a decade she helped the school meet its campaign goal of $100 million to support research, students, faculty, programs, centers, and service projects. 
McCulloch managed UM-SPH's volunteer board and coordinated the Michigan Difference and Victors for Michigan campaign goal for $45 million, doubling it to $100 million. Gail oversaw multiple fundraising events including donor cultivation activities, alumni gatherings, and major donor recognition. While at UM-SPH, Gail also strengthened the corporate giving program and initiated the first public/private partnership plan for the school.