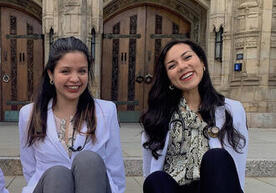 Yale School of Nursing Adult/Gerontology Primary Care students Evelyn Cortes '21 MSN (pictured right) and Stephanie Mora Hernandez '21 MSN (pictured left) recently created "Step by Step: Diabetes and the Care of Your Feet," a video conducted entirely in Spanish. The roommates are both native speakers and jumped at the opportunity to bring their language skillset into their clinical practice for a class assignment.
"The reason why I went into healthcare was to work for Spanish-speaking and minority patients," Cortes said. "I really want to work with our marginalized communities." 
"Education and outreach are really important to both of us," Mora Hernandez said. "I feel one of our primary jobs is definitely raising awareness. I haven't seen a lot of footcare education being done in primary care settings, and the education and demonstration are so simple and yet beneficial for patients."
The video shows best practices for diabetes footcare that a patient can do on their own at home. These easy efforts don't take much time and can avoid significant injury.
"A lot of people with diabetes also have neuropathy, meaning a high level of impairment of sensation in their feet," Mora Hernandez said. "If they step on something sharp, a person with diabetes might not notice because their senses are dulled. They might walk around with the object embedded in their foot for a long time."
Cortes and Mora Hernandez created the video for an assignment in the diabetes concentration run by Assistant Professor of Nursing Elizabeth Ann Doyle, '95 MSN, DNP, APRN, PNP-BC, BC-ADM, CDE. This final-year elective focuses on advanced preparation in the sub-specialty of diabetes care practice and management across the lifespan. 
"I think it is terrific that they created this video in Spanish to provide this important education for their Spanish-speaking patients," Doyle said. 
"Teaching this concentration, and thereby teaching the next generation of diabetes providers like Evelyn and Stephanie, is the most rewarding role I have ever had at YSN," Doyle said. "The concentration each year attracts a wonderful group of students across all specialties who share my commitment to holistic, comprehensive diabetes care, with the goal of making the lives of patients with this condition a little easier."
Cortes points out that diabetes care is complex, with providers juggling multiple factors at once.
"We see the most complications and comorbidities in our minority populations in the U.S.," Cortes said. "That includes Black, Spanish-speaking, and immigrant folks. And then language can become another factor that the provider has to take into account."
Diabetes is a condition that may need to be managed over decades, and Cortes and Mora Hernandez say that after having the illness for many years, patients can develop a sense of apathy that a provider will need to overcome.
"There are so many parts of diabetes care that we as providers can't fix in one visit," Cortes said. "For example, food insecurity, poverty, and mistrust in certain medications. But I can give patients the space to think and educate them and I can listen. I hope with this video we can think more about these simple ways that are fun and creative to teach."
Preceptors as Role Models
Cortes and Mora Hernandez hope the video will be part of a larger effort to broaden care for minority populations in the school and in the wider community. That includes additional outreach to Spanish-speaking and other minority patient populations, working with Spanish-speaking faculty, and learning clinical practice under the guidance of Spanish-speaking preceptors.
A preceptor is an experienced clinician who works with students in a clinical setting for a defined period of time, usually one semester or one year. 
"I was fortunate enough to have a preceptor who was Spanish-speaking, but it can be hard to find preceptors that look like you and look like your patients," Cortes said. "It's like having a role model. We would like to see more of our faces, brown and Black bodies, be in these spaces so that we are well equipped to treat and care for our own communities." 
---
Becoming A Preceptor
Have you ever considered serving as a preceptor? YSN depends on the generosity of our alumni to help educate, grow, and diversify the next generation of providers and to foster better health for all people. We cannot do it without your support! 
For more information about the benefits and guidelines of becoming a preceptor, visit Precepting At YSN or contact Director of the Clinical Support Unit Tracy Chidsey at tracy.chidsey@yale.edu.
To learn more about the work of some of YSN's outstanding preceptors and hear how significant these relationships are to the student experience, check out the 2020 Preceptor of the Year award winners.