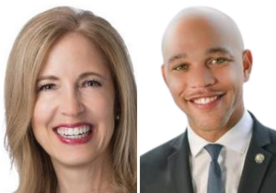 Dean Ann Kurth '90 MSN, PhD, CNM, MPH, FAAN, and Stephan Davis '16 DNP, MHSA, NEA-BC, CENP, CNE, FACHE contributed to a new report released today from the Josiah Macy Jr. Foundation. The document issues a set of recommendations to guide health care leaders and professionals on how to address harmful bias and eliminate discrimination within health professions learning environments to ensure that everyone who receives care and everyone who learns, teaches, and works in clinical environments is treated equitably and feels a sense of belonging. 
"We know there is bias in health care, including racism. We know how to address it. Now it's time to act," said Kurth,who served on the report planning committee. "Not only will patient care be better, all our health care professions will be better."
The Foundation's report dovetails with the Yale School of Nursing's (YSN) Initial Anti-Racist Action Plan, released in June. The Action Plan is the result of many months of work by the IDEAS (Inclusion, Diversity, Equity, Action, Solutions) council, on which Davis serves as the alumni co-chair. 
The report is derived from the foundation's conference in February. Prior to the conference, Kurth and Davis read four Macy-commissioned papers and three case studies, all focused on addressing bias and reducing discrimination in health professions learning environments. Then conference attendees used the materials as a starting point for discussion. 
The report makes four recommendations with detailed action steps for each. The recommendations are: 
Build an institutional culture of fairness, respect, and anti-racism by making diversity, equity, and inclusion top priorities.
Develop, assess, and improves system to mitigate harmful biases and to eliminate racism and all other forms of discrimination.
Integrate equity into health professions curricula, explicitly aiming to mitigate the harmful effects of bias, exclusion, discrimination, racism and all other forms of oppression.
Increase the numbers of health professions students, trainees, faculty, and institutional administrators and leaders from historically marginalized and excluded populations.
Read more about the Foundation's report here.