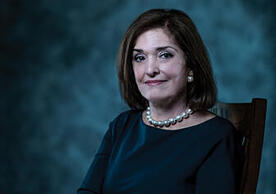 Yale School of Nursing (YSN) Professor Emerita Dr. Angela Crowley, PhD, APRN, PNP-BC, FAAN was recently featured in a Yale Alumni Magazine piece highlighting a collection of essays describing career-long devotions to an area of subject matter expertise. 
While few of her high school classmates considered a nursing career, Dr. Crowley was intrigued.
"I was fascinated with this profession that allowed one to have a close, meaningful relationship with patients; one in which all social rank and pretense are stripped away. I valued authenticity."
Dr. Crowley's essay "Note to My Younger Self… Oh the Places You'll Go!" describes how her own search for childcare shaped decades of research at YSN.
"In my clinical practice, I discovered that families were struggling with the same issue; often, children with special health care needs including those with emergency medication requirements were often excluded from childcare," Crowley wrote. 
"My first published paper on the topic raised awareness of this dilemma for parents and proposed that pediatric primary care providers should play a vital role. In fact, nurse practitioners, pediatricians, and childcare providers are the professionals who have the most contact with families of young children. My early research confirmed that childcare providers needed access to health experts. Doctoral study gave me the tools to examine the literature, learn methodology, and pursue strategies for improving the health and development of children in childcare and their families. Publications and presentations brought opportunities to connect and work with other researchers, policy makers, nurses and pediatricians across the country."
Read the Yale Alumni Magazine article "A Thinker's Life."