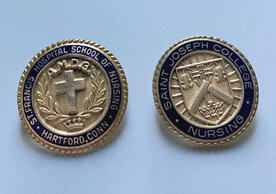 In normal times, Yale School of Nursing (YSN) is known for winning Commencement. The celebratory poppers YSN students blast open in a synchronized burst of joy shoot confetti and streamers high enough into the air to be seen clearly from 15,000 seats back at the rear of Old Campus. 
It goes without saying that 2021 is not a typical year. But for nursing graduates it will include a more historical token of their achievement that will be distributed with less fanfare but more significance: a nursing pin. 
According to the Museum of Nursing History, the first nursing pins in America were presented at Bellevue Hospital in New York City in 1880. White caps were also distributed to new nurses for a time, but YSN replaced the stiff formal piece of kit with a more casual snowy ballcap some years ago.
Associate Professor of Nursing and Adult/Gerontology Acute Care Nurse Practitioner Specialty Director Laura Kierol Andrews, PhD, APRN, ACNP-BC is a second-generation nurse and a big fan of the pins. Her mother, Linda J. Kierol, RN, CEN, worked for 28 years at Griffin Hospital's Emergency Department and was a proud alumna of the Saint Francis School of Nursing in Hartford, CT. 
"I remember how I would watch my mom put her nursing uniform on with her St. Francis pin and hospital name tag, getting ready for work," Andrews said. "She also wore a nursing cap, but frankly she was very happy when I graduated and it was no longer part of the nursing uniform. She joked that it often got caught on the patient privacy curtains and yanked her hair out. She was so happy when I ordered my pin from Saint Joseph's College and was beaming when I received it in our pinning ceremony. When she passed away, I inherited her pin and wear both for important nursing occasions."
Andrews said the pin is a small but important symbol of everything the graduating students have accomplished, especially this year.
"Nursing pins are a tradition; they are our badges of honor and represent our schools of nursing and our profession and the hard work we did to become nurses," Andrews said.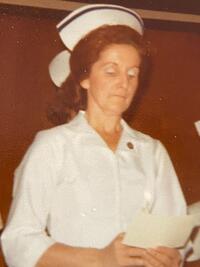 Lecturer in Nursing and Specialty Director for the Family Nurse Practitioner Program Nicole Colline, DNP, FNP-C, MSN, BSN traces her own nursing history even further back, through her mother, Marguerite Colline, and her grandmother, Margaret McNally (pictured). Both women were strong influences on her decision to join the profession.
"I recall as a child listening to them share stories of medical heroism and also sorrow," Colline said. "I wanted to be just like them—I wanted to help the ailing and give back to the community by means of a service profession."
Colline treasures the nursing pins of her family and has reflected deeply on what they stand for.
"The pin is a symbol of unity," Colline said. "It represents the hardest years of schooling followed by the commitment to spend the rest of one's life providing holistic, compassionate care to the human race, regardless of age, gender, race, sexuality, etc. It means I took an oath—an oath to deliver compassionate, holistic care with every patient encounter."
"The pin is a symbol of a dream to be like my heroic mother and grandmother—to never give up, to persevere when times get tough, to show my children that the unbiased care of all humans is paramount to any personal flaws one may have. The nursing pin represents traditions of putting others before oneself in my family," Colline said.
Colline's mother agrees about the significance of the adornment.
"Pinning was a very important day for us, probably more important than graduation," Marguerite Colline texted her daughter recently. "It gave you a nursing identity. When you worked on the floor, you could look at your coworker's pin and know where she studied… We wore them with pride."
The Class of 2021 will celebrate graduation under the unique circumstances of the worst global pandemic in a century. COVID-19 has shaped their academic and clinical experiences and will continue to form their careers. And even more than confetti and streamers, the pins are a testament to the hard work and perseverance of what it took to make it to Commencement this year.