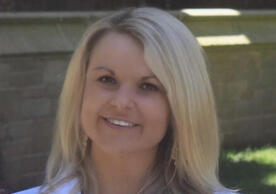 Christa Varnadoe '20 MSN, BS, RN, OCN graduated virtually in May 2020, the first online Commencement in Yale School of Nursing's nearly 100-year history. During her time at YSN, Varnadoe worked as a clinical researcher, volunteered at the HAVEN free clinic, and welcomed new students as an orientation leader. In 2019, she was named recipient of the Nightingale Awards for Excellence in Nursing scholarship, the Oncology Nursing Foundation Master's Scholarship, and the American Cancer Society Graduate Nursing Scholarship.
"I loved my time at Yale," Varnadoe said. "Everything about Yale was an amazing experience for me."
The final spring of her MSN program included serving as the clinical research nurse coordinator of COVID-19 clinical trials at Mount Sinai Hospital. The experience prompted a great deal of self-reflection.
"It really made you stop and think," Varnadoe said. "To have no knowledge, to go in blindly and hoping this trial can make a difference was a very humbling experience. But you realize that you never know what you can do until you've been put in a tough position like that. And you can do so much. There have been so many positive things that have come out of the chaos. This is the Year of the Nurse and look how far we've come."
In a year full of tectonic changes, two big ones happened simultaneously. First, she was recruited into a nurse manager role at the Tisch Cancer Center, a move that would provide the means and opportunity to return to academia. And second, YSN launched the brand-new post master's Clinical Doctor of Nursing Practice program. The track is designed for Advanced Practice Registered Nurses (APRNs) interested in enhancing their clinical leadership skills and developing a clinical area of expertise.
"I always knew I was going back to school, and it was just a matter of when," she said. Varnadoe returned to YSN this fall as a member of the first C-DNP class and as the new Nurse Manager of the Cancer Clinical Trials Department in the Icahn School of Medicine at Mount Sinai Hospital.
"Since being at YSN, I've always been on a team. No matter where you go you have to collaborate, you have to synergize. That's is one of the most exciting things I'm looking forward to about the clinical DNP: us all working together and creating something new. Being the first and being able to put this new program on the map and advocate for it in the future is really special. Maybe I could even come back to YSN as a guest lecturer or part-time faculty."
Varnadoe is also energized by the opportunity to be a trailblazer.
"Yale is such an established university, and the nursing program itself is so established. It's extremely difficult to be an inaugural anything here, and to be in the first clinical DNP class is an honor," Varnadoe said. She also discussed other advantages of the program: becoming a more well-rounded professional nurse, adding more tools to her toolkit as a manager, and partnering with brilliant colleagues who have varied areas of expertise she wouldn't have the opportunity to work with otherwise. When speaking about this new chapter, it is clear that Varnadoe is also driven by a strong altruistic calling.
"Everyone is passionate about something different, and when we all come together at YSN it paints a beautiful picture of what can be done for others."
Welcome back, Christa!
---
this article and many more can be found in the fall 2020 issue of yale nursing matters, read more.