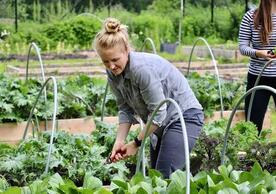 Yale Earth Week begins today and runs through April 23, a timely opportunity to revisit Yale School of Nursing (YSN) subject matter expertise in climate change, planetary and human health, and urban planning for modern cities and health systems. 
Learn more about YSN faculty and student involvement in these areas below and check out earthweek.yale.edu every day this week for hundreds of new opportunities for learning, connecting, and action by and for the entire Yale community.
Climate Change
In the spring of 2020, during the first in a series of global health speakers sponsored by the Yale Institute for Global Health (YIGH) and the schools of nursing, public health, and medicine, Former U.S. Secretary of State John Kerry '66 B.A., '17 L.L.D.H. said the United States must reassert itself as a global leader if we are to address the threat of climate change and other global health challenges.
At the 2020 Creative Writing Awards, prize winner Amy Isabelle read her essay "Med Math for a World on Fire" about the wildfires in Paradise, CA, "a town literally burned off the map." Among other questions, her piece searches for the treatment guidelines for climate change.
During the Planetary Health Series in the fall of 2020, Professor of Epidemiology and Faculty Director of the Yale Center on Climate Change and Health Dr. Rob Dubrow, MD, PhD, described a bleak picture of the planet's climate future. Dr. Dubrow's materials covered "Climate Change Mitigation: Protecting the Health of Current and Future Generations."
Planetary and Human Health
For the past two years, Lecturer in Nursing Ronica Mukerjee '17 DNP, FNP-BC, MsA, LAc, AAHIVS has seen a strong correlation between planetary health and human health in her work in Tijuana, Mexico. She describes environmental refugees of starvation or exclusion, rivers drying up and ruining farmland, and the dangers of overconsumption.
In the fall of 2018, the Yale Explores series traveled to Philadelphia to discuss "Planetary Health: Safeguarding Human Health and the Natural Systems on Which It Depends." In the City of Brotherly Love, Dean Kurth discussed to the urgency of using science and practice to achieve better health for all people and the planet. 
For multiple semesters before COVID-19, Michelle Kennedy '05 MSN, APRN, enjoyed bringing Graduate Entry Prespecialty in Nursing (GEPN) students to the Yale Landscape Lab (YLL), just a five-minute walk from YSN. That proximity has forged a symbiotic relationship between the West Campus neighbors, and the urban farm has played a prominent role during Kennedy's Community Health class.
Modern Cities and Health Systems
As rising temperatures and adverse weather events create acute health concerns, novel diseases (including zoonoses like SARS-CoV-2) and vaccination hesitancy present a new wave of stresses to global health and the health care industry. As a panelist at the Davos World Economic Forum in 2020, Kurth shared her thoughts on the importance of strategic planning, trust, and education in building resilient health systems in a time of climate change.
When Yale Explores concluded the West Coast leg tour in Los Angeles a few years ago, the assembled team of Yale faculty addressed issues pertaining to the "21st Century City and Society." Professor of Nursing David Vlahov, PhD, RN, FAAN took the stage as the panel's resident expert in urban health.