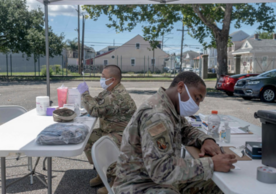 Director of the Yale Institute for Global Health (YIGH) and Yale School of Nursing (YSN) affiliate Dr. Saad B. Omer, MBBS, MPH, PhD, FIDSA, shared his expertise with multiple media outlets over the past few weeks.
He discussed the Biden Administration's plans for booster shots on Slate's "What Next: TBD" podcast with host Lizzy O'Leary, and The Wall Street Journal quoted him in an article about vaccine efficacy. 
NPR interviewed Omer on a variety of topics. When discussing booster shot strategies with Steve Inskeep on "Morning Edition," Omer talked about the process for making vaccine recommendations. 
"In addition to FDA authorization, often, we have what's called the Advisory Committee on Immunization Practices, which is a CDC group. It's an external advisory group to the CDC director that evaluates all the evidence in the open. So they're subject to open meeting requirements. So not only the data are reviewed openly, but the rationale is also discussed."
"All Things Considered" host Audie Cornish interviewed Omer about breakthrough cases, and he was quoted in a story about the Johnson & Johnson booster shot.
"It would be reasonable to say that yes, have at least two doses of J&J, or have at least one more dose for those who had a single dose, including the option of having another J&J," Omer said. "It is pointing toward the utility of a second dose. I think that's reasonable."
NPR included an Omer soundbite from an archived NPR broadcast in a piece about CDC mask guidance.
"You can imagine your vaccine providing a bit of a forcefield, but that's not the case anymore. It's still pretty strong armor, but it's penetrable armor."