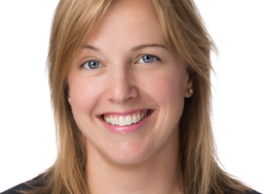 When Ami Marshall '04 MSN, EdD, APRN, ANP-C, was an RN-entry student at YSN, she always knew she wanted to come back and teach. After a few years as a part-time lecturer, she has been at the school full time since 2016. Now the Specialty Director for the Adult/Gerontology Primary Care Nurse Practitioner (AGPCNP) Program, Marshall is guiding it through a curriculum refresh. Yale Nursing Matters (YNM) caught up with her during spring break.
YNM: You recently spearheaded a curriculum revision for the AGPCNP program. What prompted the refresh and what objectives did you keep in mind as you were tackling such a big project?
We know the Boomer generation of adults ages 65 and older will need clinicians knowledgable about how to care for geriatric patients in huge numbers over the next decade and beyond. When we looked at the existing curriculum, we knew we had opportunities for growth to make the courses more interdisciplinary and more diverse. 
We recentered our curriculum around the Connecticut Older Adult Collaboration for Health 4M (COACH 4M) framework for care of the older adult: mentation (cognitive assessment and management), medication (appropriate medication use), safe mobility (mobility assessment and management and fall prevention), and matters most (patient outcome health care goals).
Lecturer Ophelia Empleo-Frazier '99 MSN, GNP-BC, CDP and I created the new course, Advanced Primary Care of the Older Adult, and we rolled it out last year not only to AGPCNP students, but Family Nurse Practitioner (FNP) students as well. We also revised an existing course to become Concepts and Principles of Aging.
Student feedback has been very positive, and many students say they have greater confidence navigating difficult conversations about end-of-life care and palliative care. They have also shown appreciation for a greater multidisciplinary focus: we've had pharmacists, physical therapists, and speech therapists come to class and share how they work with this population.
We also wanted to make a greater effort to integrate diversity, equity, and inclusion principles. One clear example of this is dermatology and showing different skin conditions on skin of different colors. It can be difficult to find textbooks, even very recent ones, that show skin tones of people of color. We also discuss how people of color may have different historical roots in their perceptions of palliative care and how to connect with those patients.
YNM: You recently took on a new role at the HAVEN Free Clinic in their reproductive health department. What appealed to you about serving in this leadership position?
I was really honored that they chose me for the medical directorship. Providing care for the undocumented and uninsured of greater New Haven is such a meaningful experience for students and a huge benefit to the local community. 
The clinic is innovative in its interdisciplinary approach and nursing, physician associate (PA), and medical students all work together in the medical department. We also have many student volunteers from Yale Law School, Yale School of Public Health, and Yale College. The clinic's oversight has always been under YSM, but now we have leadership from all three programs, and it is truly interdisciplinary from the top down. I think it's important for our nursing students to see nurses at the head of the table.
YNM: You also work with the Yale Community Healthcare Van two half-days each week, which is run by the Infectious Disease department at YSM and can often be seen on the New Haven Green. What attracted you to this mobile unit?
In addition to the robust needle exchange program and the opportunity to connect with so many patient walk-ins, I'm really proud of the mother-baby program that began during the COVID-19 pandemic. Since these moms have challenges and/or barriers that limit their ability to attend follow-up care appointments in office, we travel to them. We arrive at the patient's home, park in their driveway, and provide care. Liz Znamierowski '20 MSN sees the babies, and I see the moms. We work well together. And we've given a lot of COVID-19 vaccines, which is a great feeling!