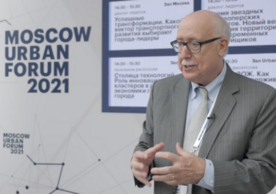 On a recent trip to the Moscow Urban Forum, Professor of Nursing Dr. David Vlahov, PhD, RN, FAAN shared his expertise in epidemiology and urban health with multiple media outlets, focusing on COVID-19, climate, and city governance.
In an interview with a local TV station shared on the Forum's Instagram page (@MosUrbanForum), Dr. Vlahov advocated for taking the lessons learned from the current global pandemic and applying them to future public health crises.
"My opinion is right now we've got COVID and that's taking everybody's attention, and it should," Vlahov said. "And then we need to take the lessons that we've learned from COVID in terms of making long-term preparedness going into the future."
Dr. Vlahov also examined the challenges of climate on cities, pointing to exhaust from transportation, greenhouse gases produced by construction materials like cement and steel, and the organization of hospitals as areas for improvement. He also advocated for changes to architecture and urban planning.
"It's not enough just to plant trees," Dr. Vlahov said. "That's important, but there's so much else we need to do."
In terms of city governance, Dr. Vlahov emphasized cooperation among stakeholders to make compelling and persuasive change.
As a plenary speaker during the forum, Dr. Vlahov conducted a discussion with Moscow's mayor, Sergei Sobyanin, centered on COVID-19 and cities. The mayor's website features a Q&A with Vlahov about what elements make public parks successful.
"For parks to be in demand, they must be something more than trees and benches," Vlahov said. "It is very important to conduct classes in them to promote a healthy lifestyle. In addition, collective events, whether they are dances, chess clubs, or concerts, contribute to the communication of citizens."
Dr. Vlahov is the founding president of the International Society for Urban Health and editor in chief of the Journal of Urban Health. He is also a member of the Science Committee of the 17th International Conference on Urban Health, where he moderated multiple sessions earlier this month. The discussions covered mental health in the city, urban upgrading and neighborhood recovery programs, and lessons from the COVID-19 pandemic.