On July 10, YSN Associate Dean for Global Health & Equity Dr. LaRon E. Nelson, PhD, RN, FNP, FNAP, FAAN participated in a panel during the International AIDS Society COVID-19 Conference, a virtual meeting that also featured Dr. Anthony Fauci and Dr. Deborah Birx. During the presentation, "Anti-black racism and COVID-19 inequities: Explaining the system, exposing the set-up, and exploring the solutions," Nelson explained how race is a social concept and that the idea of race as a scientifically valid biological taxonomy is thoroughly discredited. 
"The system of racism is continuously operating and does not require conscious participation, which is why it's so important to acknowledge the structural institutional forms—because they do not necessarily depend on the actions of individuals," he said.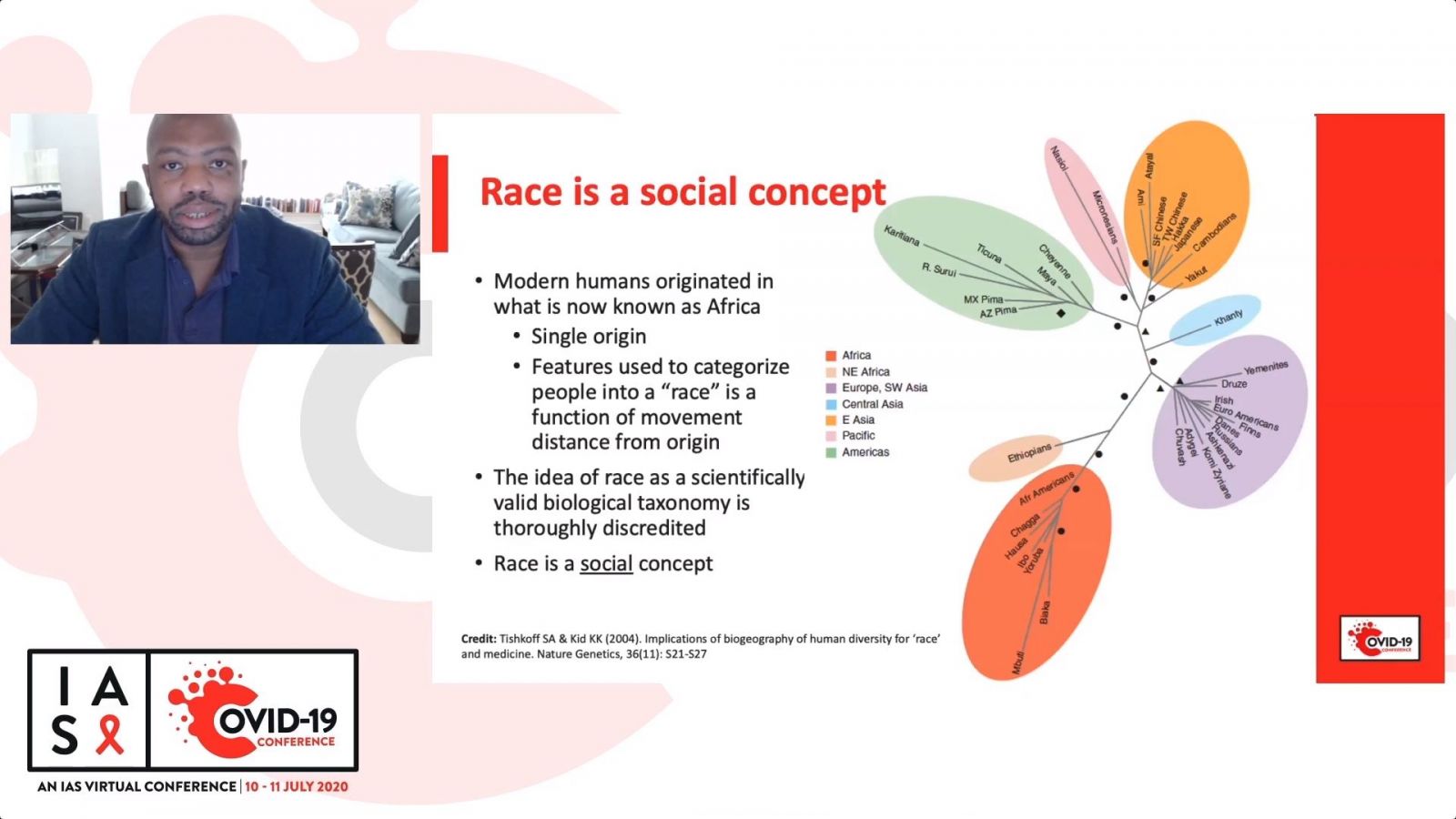 Nelson showed how areas in the US with the highest levels of poverty, unemployment, and uninsured are the same areas with the highest concentrations of chronic conditions such as syphilis, diabetes, and heart disease. Those same regions, mainly in the mid-Atlantic and southern states, also had disproportionately higher rates of COVID-19 infections and deaths among Black people in those communities, helping to illustrate how the system was already set up for Black communities to have a disproportionate, inequitable impact from COVID-19.
Taking Action on Two Fronts
Nelson said in working to end racism, it is critical to acknowledge a fight on two fronts: the COVID-19 pandemic and anti-Black racism. "Ending racism cannot be triaged to a post-COVID-19 priority," he said. "We must reverse inequitable structural public health and social policies that funnel vulnerability to the Black communities." These efforts will require "active and sustained measures," including advocacy at local, state, and federal levels and through professional organizations.
Nelson also pointed to the particular responsibility the science and medical communities have in supporting those risking their lives to fight on both of these front lines. It is vital that health professional education include anti-racism competency in the curriculum as well as evaluation. Both the COVID-19 pandemic and anti-Black racism require rapid, multi-level responses aimed at their eradication and preventing their resurgence. "Racism is not a system that can be reformed. It must be dismantled," he said. "The moral conscience of the world has been awoken by the COVID-19 pandemic, and it is an opportunity to re-structure society to protect all human life and the ecosystems that sustain it, against the global pandemic threats of racism and COVID-19."
A Depth of Expertise
Other panelists included Dr. Michael Ryan (World Health Organization) who discussed the response of the WHO and what we must learn from past mistakes; Reem Mussa (Médecins Sans Frontières / Doctors Without Borders) who talked about the impact of COVID-19 on migration; and Dr. Khuat Thi Hai Oanh (Center for Support Community Development Initiatives) who spoke about the community response in Vietnam. Dr. Andrea Calcagno (Università di Torino) opened the panel by discussing his experiences treating COVID-19 patients in Turin as well as a patient who recovered from the virus. The conference began with a keynote speech from Dr. Tedros Adhanom Ghebreyesus, Director-General of the WHO, and closed with remarks by António Guterres, the United Nations Secretary-General. 
To view the full program and learn more about the virtual conference, click here.
To read more about Dr. Nelson's work in this area, click here.