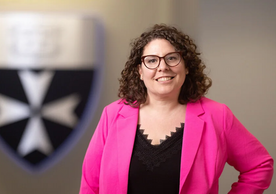 Deena Kelly Costa recently joined the Yale School of Nursing faculty. In an interview with YaleNews, she talks about her research, policy work, and a celebrity encounter.
By Mallory Locklear
Deena Kelly Costa, one of the newest faculty members at the Yale School of Nursing, studies how to improve intensive care. In her free time, she enjoys reading — a recent favorite was the Gabrielle Zevin novel "Tomorrow, and Tomorrow, and Tomorrow" — hanging out with her husband and son, and, as sometimes happens, running into world-famous Yale alums.
We caught up with Costa for the latest edition of Office Hours, a Q&A series that introduces Yale newcomers to the broader university community.
---
Title: Associate Professor of Nursing
Research interest: How to improve the organization and management of critical care
Prior institution: University of Michigan School of Nursing
Started at Yale:  July 1, 2022
How would you describe your research interests?
Deena Kelly Costa: I study how we can improve how nurses, physicians, and respiratory therapists in intensive care units (ICUs) work together to deliver care to patients. My prior work has identified that those three clinicians are key providers for mechanically ventilated patients. In one current project, in Yale ICUs, we're trying to get a better understanding of how each discipline thinks about staffing, with the idea being that if we can better combine the clinicians who are present each shift, we might be able to improve the staffing among teams and thereby improve the care they can provide.
In another project, I'm collaborating with a health economist on how to quantify the value of nursing and recognize that value in order to better advocate for investment in nursing and help address some of the workforce crises we are experiencing now, such as nurse staffing issues.
How did you get involved with Yale's National Clinician Scholars Program?
Costa: The National Clinician Scholars Program is a wonderful two-year training program for nurses and physicians. The scholars are incredibly passionate, bright, and exciting. There's a wide gamut of disciplines represented, so I work with a bunch of different scholars and faculty, which is lots of fun.
I was co-director of the University of Michigan program when I was there, and I love that I am able to continue my engagement with the program here at Yale. One of the best aspects of the program is the interprofessional nature — having nurses and physicians train, learn, and work together. It is exciting to see a national training program support nursing's important presence, place, position, and contribution in health care research and health policy research.
You worked with the governor of Michigan's office during the pandemic. What policies did you help shape?
Costa: In Michigan, there are a lot of restrictions on how nurse practitioners and certified nurse midwives can practice. Many have to be in a supervisory relationship with a physician, which limits access to care for patients. I worked with the governor's team on an executive order to suspend those regulations, which really helped expand health care access during the pandemic.
You say you're a New Yorker by birth and a Bostonian at heart. Where do your sports alliances lie?
Costa: With Boston! The Red Sox and Bruins in particular. I grew up in and now live in New York, but I did undergrad at Boston University and worked in Boston for around 10 years. I worked down the street from Fenway, and often after a shift, my colleagues and I would head over in our scrubs and grab cheap Red Sox tickets.
You met a notable Yale alum just before you started here. How did you meet?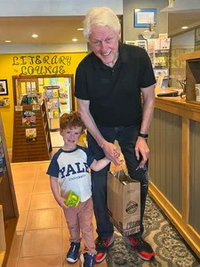 Costa: My son, who was two and a half at the time, was home from daycare. We'd been running around all day and decided to pop into a bookstore in Chappaqua, New York, down the road from where we live. We walk in, and there's Bill Clinton '73 J.D. — no one else was there. My son was wearing a Yale shirt, and we started talking about how he went there and how I was getting ready to work there. I got a picture with him and my son. It was all very exciting.
This article originally appeared in YaleNews.