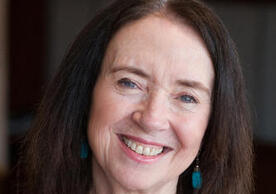 Dr. Margaret Flinter '80 MSN, PhD, APRN, was honored last week with the Yale-Jefferson Award, a recognition of outstanding public service across a 40-year nursing career dedicated to providing high-quality primary care to vulnerable and underserved populations. 
"Primary care in the U.S. would not be what it is today without the ingenuity and transformative leadership of Dr. Flinter," said Dean Ann Kurth '90 MSN, PhD, CNM, MPH, FAAN. "She believes that healthcare is a right, not a privilege, and she leads by example. Dr. Flinter has always truly exemplified YSN graduates answering the call."
Primary Care Innovation
"One of the most thrilling things in the world is to take an idea and turn it into something real," Dr. Flinter said. "I've had the pleasure of doing that many times with some terrific teams of people. When you commit yourself to doing something bigger and better, with more impact, and you do that every day with your heart and soul and mind, there is a unique satisfaction and pride that comes with it." 
After graduating from Yale School of Nursing (YSN) in 1980, Dr. Flinter joined Community Health Center, Inc. (CHCI) headquartered in Middletown, CT as a National Health Service Corps Scholar and its first nurse practitioner. She currently serves as senior vice president and clinical director of the organization, which is committed to improving health outcomes and building healthier communities, particularly for vulnerable communities. 
CHCI offers a suite of services including medical, dental, behavioral health and specialized support services to 150,000 patients across Connecticut in settings ranging from primary care centers to schools, homeless shelters, and via telehealth. She is also senior faculty and founder emeritus of its Weitzman Institute, which is dedicated to research, training, and innovation.
Working in partnership with CHCI's founder and President/CEO Mark Masselli, Dr. Flinter has devoted most of her professional life to building CHCI into one of the nation's largest and most innovative federally qualified health centers (FQHCs). This designation recognizes primary care organizations that are non-profit, consumer controlled, and focus on underserved areas and populations who are most in need of comprehensive primary care.
Dr. Flinter has put particular focus on training the next generation of health care providers.  In 2007, recognizing the enormous challenges and risk of burnout that new nurse practitioners faced in entering practice in community health centers, she developed a new model of formal postgraduate residency and fellowship training. She literally wrote the book on what has become a national model of postgraduate residency and fellowship programs in both primary care and specialty care. 
CHCI's own NP Residency program, now with more than 100 alumni, has tracks for adult, family, pediatric and psychiatric/mental health nurse practitioners and a post-residency fellowship option. In 2015, she established the National Nurse Practitioner Residency and Fellowship Training Consortium as an accrediting, advocacy and membership organization to support the further development of this model. 
Dr. Flinter is highly encouraging of people pursuing their own innovations.
"Believe in your idea and move it forward—why not?" she said. "Don't assume that it can't happen; and don't be deterred by naysayers if you believe in it. However, remember—just about, everything takes a team, and change rarely happens overnight. I will forever be grateful that I have had the honor and privilege of working with so many extraordinary people in our pursuit of health care as a right, not a privilege—really outstanding, effective health care for people and communities who need it most."
Pandemic Leadership
Dr. Flinter highlights the important role CHCI has played throughout the COVID-19 pandemic. She recalls that the leadership team came together in early March 2020 to strategize on responding to the pandemic—not just with its own patients but from a public health perspective all across the state. 
Within a short time, CHCI stood up mass drive-through COVID testing sites across the state and began planning for COVID vaccine deployment. In January 2021, as soon as COVID vaccines became available, CHCI launched the state's largest mass vaccine clinics. Flinter recalls that the organization took its usual holistic "Wherever You Are" approach to reaching people.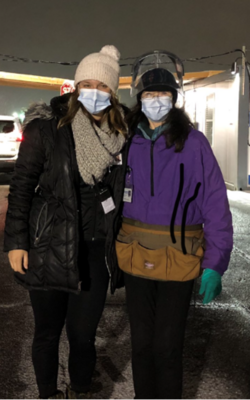 "Our teams worked night and day to create four mass-vaccination sites from scratch capable of vaccinating thousands of people a day, including the largest one at the decommissioned Pratt & Whitney airport runway in East Hartford," Dr. Flinter said. "We outfitted the runways with trailers, generators, a water supply, lights, a wireless network, and portable bathrooms to support the effort. It was just amazing to see this 'vaccine village' rise up in a matter of days, giving thousands of COVID vaccines a day to people in the safety and comfort of their cars. It was equally powerful to see teams of CHCI staff—from every clinical discipline, from front line to leadership, and every department—out there seven days a week from the dead of winter to summer." 
Dr. Flinter also acknowledged the work of hundreds of temporary staff, volunteers, and the National Guard. "We couldn't have done it without all of them."
They did not stop there. Seven days a week, CHCI deployed vaccination teams to churches, shelters, schools, parks, community centers and even people's homes. The combined efforts ultimately resulted in the vaccination of 500,000 people. Dr. Flinter describes the experience as rewarding and uplifting.
"We've hit many walls of exhaustion during this pandemic, but what I hear most often is gratitude from our staff that they have been able to make a real contribution to protecting people from COVID. In return, they receive such appreciation from the people they are caring for—that carries you a long way. Our goal is to end this pandemic."
YSN Class of 1980 Reunion
Dr. Flinter described her YSN Class of 1980 Reunion as a bright spot in 2020. The virtual gathering—the first virtual YSN alumni reunion—drew in classmates from all over the country.
"My good friend and YSN classmate Shannon Fitzgerald '80 MSN and I organized it and were thrilled to have more than half our class join us on a Saturday night for an evening of intense conversation. Dean Kurth joined us and shared what YSN is doing, particularly around diversity, equity and inclusion. It was incredible to talk in depth about our lives, work, and the powerful impact YSN had on us. My wish for all YSN students is to be able to develop relationships with each other and with faculty and alums that last long beyond the student years. I give YSN high marks for creating that culture and community."
Celebrate Service
The Yale-Jefferson Award was presented October 4 during a ceremony and fireside chat as part of Celebrate Service Week. The annual award salutes an alum, a graduate or professional school student, and a Yale College student who exemplify the leadership Yale strives to cultivate. 
Read about the other two 2021 Yale-Jefferson Award winners—Nicky Brussel Faria '21 and Paola V. Figueroa-Delgado '24 PhD—on Yale Alumni News.