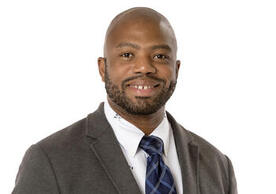 The U.S. Department of State recently tapped Associate Dean for Global Affairs & Planetary Health Dr. LaRon Nelson, PhD, RN, FNP, FNAP, FNYAM, FAAN as a Private Sector Advisor for the United States Delegation to the 2021 UN High Level Meeting (HLM) to discuss the UN's 2021-2026 global strategy to combat HIV/AIDS. The virtual session takes place June 8-10, the same week that marks 40 years since AIDS was first discovered.
Dr. Nelson's role in the delegation is to serve as a scientific expert on the impacts of stigma and structural drivers of HIV inequities in societies across the world, and also to speak authoritatively on the evidence for what can be implemented to reduce HIV transmissions and improve HIV care outcomes in UN member states. 
"This meeting represents a rare opportunity for a nurse scientist to have direct influence on global health policy related to earth's last major pandemic preceding COVID-19," Dr. Nelson said.
Among Dr. Nelson's most recent work is the article "The persistent and evolving HIV epidemic in American men who have sex with men" for The Lancet journal's series "HIV In the USA." Although the biggest funder of AIDS research and programs, the United States is the only high-income country among the top ten most HIV-affected. 
Dr. Nelson is a previous recipient of the Excellence in HIV Prevention Award by the Association of Nurses in AIDS Care and the President's Trailblazer Award by the National Black Nurses Association. He was the first nurse to be recognized as one of Canada's Rising Stars in Global Health for his groundbreaking research in Ghana. 
Dr. Nelson co-founded the Central and West Africa Implementation Science Alliance (CAWISA)—a collaboration of implementation scientists and implementing agencies from Cameroon, Congo, Ghana, and Nigeria aimed to improve HIV-related outcomes among adolescents the region. 
In Canada, he is also leading implementation science efforts to reduce racial disparities in HIV incidence, treatment, and viral suppression among African, Caribbean, and Black communities in Toronto. In the U.S., Dr. Nelson's is co-leading a HIV Prevention Trials Network (HPTN) 096—a randomized controlled trial testing the efficacy of a multi-level integrated intervention strategy for efficacy on increasing rates of HIV viral load suppression and use of HIV pre-exposure prophylaxis use among Black men who have sex with men (MSM) across 16 cities in the American south.