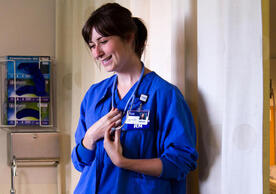 Sana Goldberg '20 MSN, RN published her first book, How to Be a Patient: The Essential Guide to Navigating the World of Modern Medicine, last year. She focuses on patient agency and how patients can participate in their own care. Amid the COVID-19 (coronavirus disease) pandemic, many of her recommendations resonate even more strongly.
Goldberg will soon be working as a community health nurse practitioner in the Hudson Valley and doing part-time work in addiction medicine. YSN caught up with Goldberg to discuss how to be patient with COVID-19, how to avoid becoming one in the first place, and how to advocate for a family member or a loved one while they are receiving care.
---
How to Avoid Becoming a COVID-19 Patient
Reading the news might feel pretty anxiety-producing right now, but Goldberg said there are several things you can do to reduce your risk of becoming a COVID-19 patient. She emphasizes good handwashing, for example, but her other advice is practical, too. 
"Taking care of yourself overall is a good place to start," Goldberg said. "Getting enough sleep, eating well, and exercising. Your immunity is closely linked to sleep and stress management. Be mindful of where you go and whom you interact with. Even in the context of things slowly reopening, try to reduce your public footprint as much as you can, especially to protect populations that are more vulnerable." 
It also pays to strategize in advance and map your plan of care. Goldberg said knowing how to get accurate information to assess symptoms can be especially helpful. For example, be aware of what range for a fever is worrisome. According to CDC guidelines, that's 100.4°F or 38°C or higher. Identify trusted news sources and draw on an established relationship with your provider if you have one. 
If you don't have a provider, Goldberg recommends taking advantage of telehealth options and consulting a professional from a distance. Many providers have set up COVID-19 hotlines, including Yale New Haven Health. 
"Planning ahead and knowing 'Where would I go if I needed to get tested or receive this kind of care?' is helpful, too."
"Just knowing the lay of the land can make it less reactive and feel less frightening. It gives some semblance of control during a time of stress."
What to Do If You Become Infected
Goldberg recommends calling a hotline or provider to discuss your concerns before showing up in person. While the ER can act as a default, Goldberg urges folks to consider the alternatives. Many issues can be assessed and addressed by an urgent care facility. Err on the side of caution and isolate if you have suspicions, even while waiting for test results. As a COVID-19 patient, Goldberg said you can also create a plan for communicating with loved ones should you have to go into the hospital. 
"This a good time to avoid ERs for non-emergency medical care if you can," Goldberg said. "Especially if you're in a high-risk category for COVID-19 and experiencing another health crisis, now is not a good time to sit in an ER for several hours." 
Of course, there are circumstances in which the ER is the most appropriate treatment facility. Goldberg writes it is helpful to remember the ABCs: Airway, Breathing, Circulation. If any one of those threes things is compromised, you need immediate emergency attention and should go to the hospital right away. 
If you are concerned you have COVID-19, Goldberg said it can be helpful to check your oxygen saturation as well as temperature. A pulse oximeter clips onto a finger to measure oxygen levels in blood and noting changing levels can be helpful to catch symptoms early, during the asymptomatic phase, when intervention stands to have a more positive impact. Goldberg said this device could be useful for anyone but especially those in an at-risk category. The device costs approximately $30-50 online but is not an essential item. If you are concerned, you can also carefully monitor changes in how you feel and communicate with a provider or hotline if anything gives you concern.
Advocating for a Loved One
Choosing someone to advocate for you is another action you can take to have more control over your care.
Social distancing and other precautionary measures prevent many advocates from being physically present while a loved one is in the hospital, but Goldberg said that does not mean there is nothing you can do.
"If you have access to a computer and a phone, you can be an advocate," Goldberg said. "If a loved one has COVID-19 in a hospital and you need to communicate with their team, avoid calling during shift changes [6 a.m. to 8 a.m. and 6 p.m. to 8 p.m.] because it's hard to get ahold of someone. Relay specific information, like your loved one's medications and medical conditions to the care team, so they can have the most accurate information possible. You can also alert the patient's primary care provider that the person is in ER." Top Tip: Avoid calling hospitals during shift changes: from 6 a.m. to 8 a.m. and 6 p.m. to 8 p.m. It will be easier to reach someone in real time if you call around those transition periods.
Goldberg also recommends compassion. "Trust that everyone is doing the best they can," she said.
The Recovery Process
When a COVID-19 patient comes home, Goldberg said that acknowledging physical and emotional recovery is a long process is a good first step.
"Know that it will take time to get back to baseline," Goldberg said. "Do all the things you can to take care of yourself."
As a future psychiatric nurse practitioner, Goldberg is seeing many clients through telehealth portals and encourages families and patients to seek mental health care as part of their recovery. 
"These events are leading to stress and anxiety in many arenas of life, and the experience of trauma for both COVID-19 patients and their care providers is widespread. 
The experience can be traumatic for family members, not just the patient. This is an opportune time to get mental health support as a family or individual.
One positive outcome of these circumstances is mental health care is more widely accessible with services like telehealth."
How to Be an Engaged Patient
Reflecting on How to Be a Patientin the wake of COVID-19, Goldberg said that the public might be more aware of ways to use their agency than before the crisis.
"This pandemic has demonstrated that we are intimately linked to the health of our communities, and we want resilient health care systems," Goldberg said. "These events have further enlightened the public about areas in which our system can improve."
"Part of being an engaged citizen right now is educating yourself about what you can do to advocate for healthcare that is more accessible and equitable."
Goldberg points out the distress and frustration the lack of personal protective equipment (PPE) incited in the public and the many grassroots efforts to supply PPE, feed frontline works, and offer other means of support that resulted. 
"Solving some of these systems issues takes calling your Congressional representatives, educating yourself about your local community health resources, and being informed in terms of the larger health care system. If these events inspire people to take up stock not only in their own health, but their neighbors', we'll be better off on the other side."