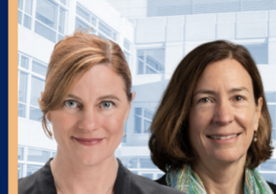 More than 4,000 online learners have already enrolled in Yale School of Nursing's (YSN) first Coursera offering, "Global Quality Maternal and Newborn Care." YSN faculty members Dr. Michelle Telfer, DNP, MPH, CNM, FACNM and Dr. Joan Combellick, '91 MSN, PhD, MPH, CNM designed the self-paced course for health administrators, policy makers, clinicians, and advocates.
"The beauty of this framework is that it's really an investment in the people, and it's a collaborative model," Telfer said. "It doesn't require money or equipment that wouldn't be available widely to everyone. We are putting the pregnant person at the center and focusing all the care around that person."
The course is based on a landmark 2014 Lancet series co-authored by Helen Varney Professor of Midwifery Dr. Holly Powell Kennedy, PhD, CNM, FACNM, FAAN. 
"The original Lancet series presented the evidence that supports midwifery as an exceptional model that should be available to all women and babies," Kennedy said. "The evidence-informed framework provides a map for how systems can examine their care. The Quality Maternal & Newborn Care Research Alliance that grew out of the series brings together researchers, advocates, and clinicians globally to foster and support research to improve maternal and infant outcomes."
"The Coursera course faculty have turned the complicated research from the Lancet Series on Midwifery into a practical application for midwives and clinicians in the field. The series demonstrated that if midwifery were universally scaled up, over 80% of maternal and infant deaths could be averted," Kennedy said.
In the early stages of brainstorming the material that would ultimately become the Coursera course, Telfer and Combellick developed a pilot program run with participants from YSN and Makerere University in Kampala, Uganda, where Telfer maintains multiple clinical and academic partnerships. 
Kennedy and Dean Ann Kurth '90 MSN, PhD, CNM, MPH, FAAN secured funding for the early iteration through the Goldsmith Foundation, and after the pilot the team knew they wanted to reach the widest possible audience. Tapping into Coursera's global network of 73 million online learners would be a new adventure for the school, but Telfer and Combellick were ready for the challenge.
"I really appreciate being in an environment where new ideas like this can live," Combellick said. "Holly and the dean had a vision to do something different. The Coursera platform is really exciting because it's not a high-cost option; most people can afford it." 
"The democratizing of education feels really good and important, especially coming from an institution like Yale to put out a product that is really accessible. It really allows a global reach to people in all settings."
Almost a year ago, Telfer and Combellick began a collaboration with the Poorvu Center for Teaching and Learning to design the course. The Poorvu team was an invaluable resource providing expertise in filming, editing, and implementing the learner-first philosophy. As Associate Director of Digital Education Belinda Platt says,
"Our data demonstrate that learners value an engaging instructor more than anything else related to course design, such as production style, course assessments, readings and resources, and discussion forums. For the midwifery course, Yale relied on a team of engaging experts with nearly 20 contributors from around the globe," Platt said.
"We prioritize the learner experience in everything that we do at Yale," Platt said. "We start our process by identifying potential learners, understanding their needs, and sharing those needs with faculty as they develop course content and materials."
When the SARS-CoV-2 virus hit the East Coast and shut down YSN and Yale, the team needed to adapt quickly if they still wanted to publish during the Year of the Nurse & Midwife. Most of the international contributors had already filmed their segments, but there were other opportunities that would have to wait until the 2.0 version.
"If COVID hadn't happened, we would have had a little more time and space to include more diversity among our group of speakers," Telfer said. "We hope to include more people from more regions and would love to bring in more richness with other voices for the next iteration."
"COVID has really opened the door and reinforced this whole project," Combellick said. "Our hope of advancing this global conversation is that this is a first iteration, but I'm also interested in how this kind of course and platform can advance a more connected conversation. It can show our similarities, globally, as we struggle through reducing disparities and mortality improving maternal and newborn outcomes."
Online learners can audit the course for free or get full access and a certificate for $49. Sign up at Coursera.org.