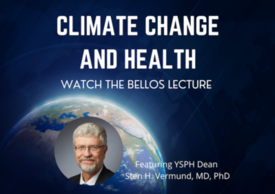 Yale School of Nursing (YSN) celebrated the annual Sybil Palmer Bellos Lecture and Wisser Tea on April 26 with a "Climate Change and Health" presentation by Yale School of Public Health Dean Sten H. Vermund MD, PhD.
Dr. Vermund is as an infectious disease epidemiologist and pediatrician by profession and has focused on diseases of resource-limited settings. These include HIV/AIDS, human papillomavirus, tuberculosis, parasitic diseases, and the novel coronavirus. 
In 2020, Dean Vermund pivoted his work towards COVID-19 research and intervention, working with Chinese collaborators from the December 2019-March 2020 outbreak. He worked with Yale economists on mask use in March 2020, and on safety in schools and arts organizations in New York City and Connecticut. 
"Sten is a Yale and a national resource, trained as a pediatrician, obviously a public health expert, and I'm going to say an honorary nurse," said YSN Dean Ann Kurth '90 MSN, PhD, CNM, MPH, FAAN. "He has always gotten the power of public health and nursing working together."
Grim Data
As "Climate Change and Health" made clear, that partnership is needed with increasing urgency. Dr. Vermund reviewed some pretty grim material: the past eight years have been the warmest in recorded history, the Sahara Desert is leaping southward 100 kilometers per year, and Africa's highest peak no longer lives up to the Ava Gardner movie title "The Snows of Mt. Kilimanjaro."
Health issues range from the direct effects of heat to the famine risks associated with evolving drought and flood cycles. Shrinking land and water assets add to population pressures, and climate refugees are forced to migrate. 
Dr. Vermund also discussed the dangers associated with vector-borne diseases such as Lyme disease and malaria. Warmer, wetter conditions help malarious mosquitos live longer and infect more people. 
The talk also focused on global threats to the environment of human origin, including heat-related deaths due to hotter and drier summers; warmer and wetter winters and the loss of polar and glacial ice; increased extreme weather; property and crop loss, especially in coastal areas; and the loss of reef ecosystems and ocean biodiversity.
Dr. Vermund described thermohaline circulation as especially terrifying, concentrating on Atlantic Ocean currents such as the Gulf Stream. 
"For the first time in recorded history, we've measured the slowing of these currents. And nobody on planet Earth has a clue as to what that might mean," Dean Vermund said.
What We Can Do
The second half of the talk focused on feasible and necessary actions to combat global climate change and went beyond the well-known advice to pursue energy conservation and efficient transportation. That includes policy at the local, national, and global level, such as placing a moratorium fossil fuel exploration and making a massive shift to alternative energy sources such as solar, wind, and nuclear power.
Dr. Vermund highlighted mitigation and adaptation strategies ranging from sea walls and to emergency response planning and incentivizing the appeal of vegetable-based diets. Other strategies included bednets, community engagement, and making contraception available to meet women's expressed unmet needs to help parents space their children as they wish.
One other action step Dr. Vermund advocated for is re-forestation, and Dean Kurth announced that YSN will plant a tree in his honor to salute his commitment to the planet and the ongoing partnership between nursing and public health. 
Watch the Lecture
To see all the data and review the full list of action recommendations, watch the video of the lecture in its entirety (captions included) on the Yale University YouTube channel.